Many of us remember Yogi Bear as one of Hanna-Barbera's biggest icons. The smarter than the average bear had a series called The Yogi Bear Show – The Complete Series
(1961-1962) about his misadventures in Jellystone Park stealing picnic baskets and driving Ranger Smith crazy. Yogi and his little pal Boo-Boo had also been involved in other animated shows in the 70s and 80s, but I'm getting ahead of myself.
The focus right now is on Yogi's first movie, Hey There, It's Yogi Bear!
. It's the first day of spring and Boo-Boo is very excited. Apparently, Yogi's only interest is snatching food from tourists by going back to his old tricks again. It's so typical of Yogi.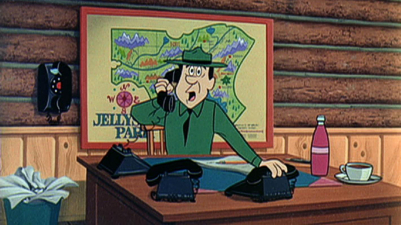 However, Ranger Smith manages to outwit Yogi a lot easier than before and enforces "Do Not Feed the Bears" signs all over the park. That drives Yogi to live like a hermit, even though he was believed to have been sent away to the San Diego Zoo.
Reoccurring character on The Yogi Bear Show, Cindy Bear, is more prominent in this movie. She truly loves Yogi. At first Yogi is against the idea of having a relationship, but eventually he realizes that he does love Cindy after all. That's when Yogi finally decides to think with his heart instead of his stomach for a change.
Things really get mixed up when Cindy hears about Yogi going to San Diego and gets herself sent away to be with him, not realizing that she's going to the St. Louis Zoo. While on the train, Cindy meets a group of other bears that sing and dance while playing around with the other luggage. To me, that's one of the most memorable scenes with the fun singing and how heartbroken Cindy gets when she discovers where she's really going.
On the way, Cindy ends up lost and captured by greedy traveling circus owners. What really stands out here is their dog Mugger. He has a very striking resemblance to Muttley, wheezing laugh and all. Now this was back in 1964, several years before Muttley became an official Hanna-Barbera icon.
Once Yogi finds out that Cindy is missing, he and Boo-Boo head out to find her. Even after they do, the three bears are still lost and end up in quite a few different places with all sorts of humans seeing them as threats, even though they're actually nice bears that would never hurt anyone.
This was a good movie with it's brand of kid friendly humor and catchy musical numbers, with the exception of that slow song Ven-e, Ven-o, Ven-a. When I first saw this film years ago I thought it was just another episode of The Yogi Bear Show only longer, since the animation style is no different. Looking back now, I can see the difference, which makes it much more memorable.