The X-Men have had plenty of video game titles. Other than the old X-Men Arcade Game, the title I remember best is X-Men: Mutant Apocalypse for the Super NES, where the X-Men must go to the island of Genosha to rescue captured mutants from the evil entity Apocalypse.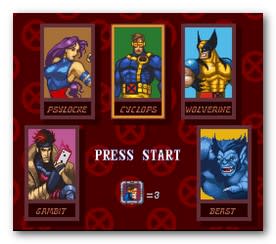 You can choose between five X-Men heroes. They include Cyclops, Wolverine, Beast, Gambit, and Psylocke. First each character must get through his or her own level before moving on in this game. It at least gives the player an opportunity to see what each mutant can do.
Cyclops has powerful optic lasers and the boss he faces is a train he must blast without getting shot by machinegun fire above. The gunfire is constant which makes it difficult at times.
Beast is both strong and agile because he can smoothly walk on ceilings, which leaves me to think that Beast is a sneaky mutant. He must battle three Sentinels to get through this level and boy are they tough.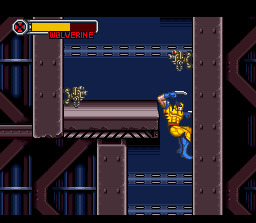 Wolverine has his sharp claws that can slice up enemies and can also be used to climb walls, which is both smooth and nifty, since he can also wall jump just as easily. The boss is a large Sentinel, which is actually easier than the other Sentinel bosses are.
Gambit is one of my favorites. He is skilled with a bo staff and can throw energy charged playing cards to take out enemies. Don't worry, he has an unlimited supply and can throw them any which way. The boss in this stage is a helicopter. First Gambit must take out the four lasers and beat up the pilot, who is surprisingly easy, if the other enemies inside the helicopter don't kill you first.
Then there's Psylocke who has energy powered fists, speed in her strut, and amazing martial arts skill. Since she's never been in any of the X-Men cartoons or movies, it's difficult to picture Psylocke as a relatable character like the others. At one point I thought she was like Jean Grey, but Jean doesn't have that fighting style. The Sentinel boss Psylocke fights is tough because it requires timing with every hit.
Those five stages are just the beginning. The rest of the game gets tougher, but now you have all five X-Men to risk getting through it.
This is a good game with plenty of challenge and excitement. I couldn't help but notice that some of the special moves the mutants have are similar to the controls from Street Fighter 2.