If you thought you've seen every version of The Wizard of Oz, think again. The Wonderful Galaxy of Oz takes a sci-fi turn on the old classic.
Due to a natural occurrence that happens once every 1000 years, noble Dorothy and her dog Toto get swept into a black hole, which takes them to Oz in another galaxy. It's also neat that Dorothy's home planet is called New Kansas.
Instead of ruby slippers, Dorothy wears a balloon suit, which is a special kind of safety suit. Secondly, her Aunt Em gave it to her, not the Good Witch of the North. Come to think of it, the Good Witch of the North doesn't even appear in this version.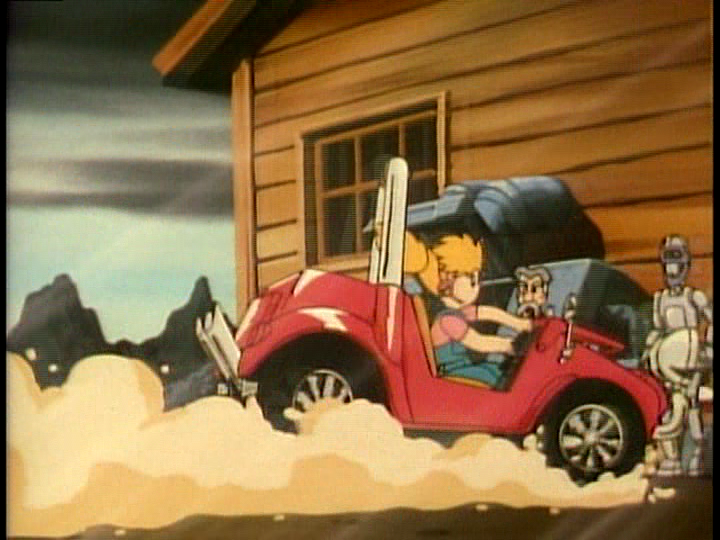 Apparently, representing the Tin Man is a robot named Chopper, who works for Dorothy's family. He goes along to Oz as well. I can't help but think that his mannerisms remind me of C-3PO from Star Wars.
Upon arrival, Dorothy and Chopper meet their other allies. First is Plantman, who represents the Scarecrow. He has a laid back persona, but can sometimes come off insensitive. Of course that's all thanks to him not having a brain, so he doesn't really know any better.
Next is the Cowardly Lion. It turns out that there's a whole tribe of lions, who are all equally cowardly. The only one who sticks around is their leader Lionman. It's funny how all of the lions run off all at once. Some of them even shouted, "Run away!"
They all soon make it to the Wizard of Oz, who is actually a scientist named Dr. Oz. (No, not the Dr. Oz with the medical talk show.) Before meeting him, it's revealed that he has a son, Mosey. You might assume that the story ends here but it doesn't. The real adventure is only beginning.
As for villains, the main enemy is the evil witch Gloomhilda. At first I thought she represented the Wicked Witch of the West. It turns out that Gloomhilda is her daughter that's just taking orders.
The actual Wicked Witch of the West is a very creepy entity with a sinister persona. She wears a red cloak to hide her face, which certainly makes her the creepiest version of the witch I have ever seen.
This was an interesting movie version of The Wizard of Oz. It was real adventurous as well as humorous. What stands out most with the humor is Gloomhilda's General Sludge. He's not only goofy. Sludge sounds real similar to Pee-Wee Herman. You got to love it.