It's been a while since the Fatal Fury franchise had a movie. Years after the Anime feature was the live action movie The King of Fighters
, which is about top martial artists competing in a tournament that takes place in another dimension.
One of these fighters is CIA operate Mai Shiranui (Maggie Q). She has some of the most amazing moves. In addition to that, when a fighter enters the other dimension, his/her clothes change like how they're dressed in the video games. Though I must point out that Mai's outfit is not as skimpy as it usually is.
They can also use projectiles like in the video games. Unlike other live action video game based movies, this one uses them pretty regularly.
It turns out that the King of Fighters tournament is made possible with three relics: The Kagura Mirror, the Yagami Necklace, and the Kusanagi Sword. And the tournament is hosted by Chizuru Kagura (Francoise Yip, who I remember best as Nancy the gorgeous biker girl from Rumble in the Bronx).
The mysterious and power hungry Rugal Bernstein (Ray Park) steals the relics and uses them to enter the other dimension in order to awaken a creepy entity called Orochi and gain unlimited power. Rugal is a tough villain, but what is the deal with his eye? It's very distracting with no explanation behind it.
Chizuru is intent on stopping Rugal, so she tasks Mai. Helping Mai is fellow participant Iori Yagami (Will Yun Lee). It's not mentioned, but he appears to be Mai's boyfriend.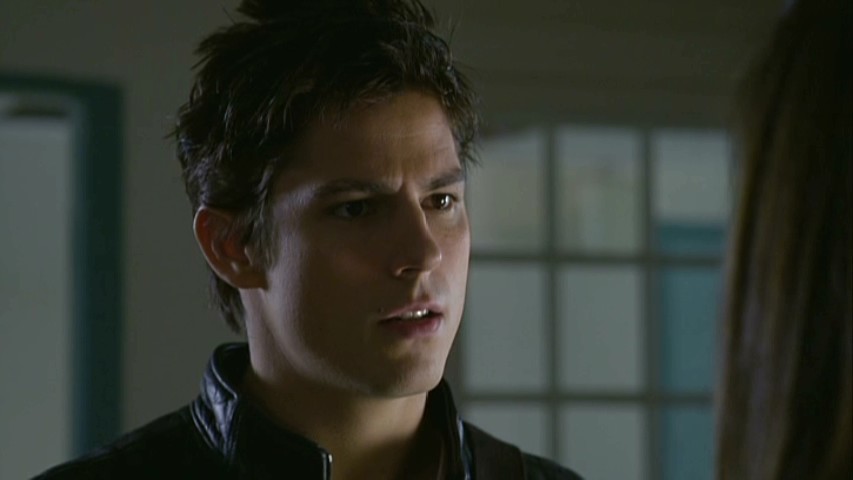 Mai also seeks help from Kyo Kusanagi (Sean Faris), who is the son of former participant Saisyu Kusanagi (Hiro Kanagawa). Kyo is against it at first because he doesn't believe that the other dimension even exists. Kyo does join once he finds out that Rugal is involved, since he has a personal vendetta with him.
Another big skeptic helping out is CIA agent Terry Bogard (David Leitch). I didn't recognize Terry at first because he wore a suit and tie most the time. Then I remembered who Terry was once he entered the dimension wearing that sleeveless red jacket. Terry even finds a red hat that says "Fatal Fury" on it. Isn't that interesting.
It turns out that Rugal is summoning every fighter in the tournament to the other dimension and killing them. There were exceptions, though. Attractive participants Mature (Monique Ganderton) and Vice (Bernice Lu) end up as Rugal's servants. All he had to do was kiss them on the lips. This guy sure is persuasive.
This was certainly a great movie with cool martial arts action and awesome music to go with it. Since the Fatal Fury franchise is making quite a comeback, I should start catching up on those video games.