There are many sci-fi films that indicate that we are not alone in the universe. One that really shows it is Men in Black
, which is about a secret agency that protects the Earth from various alien threats called MIB for short.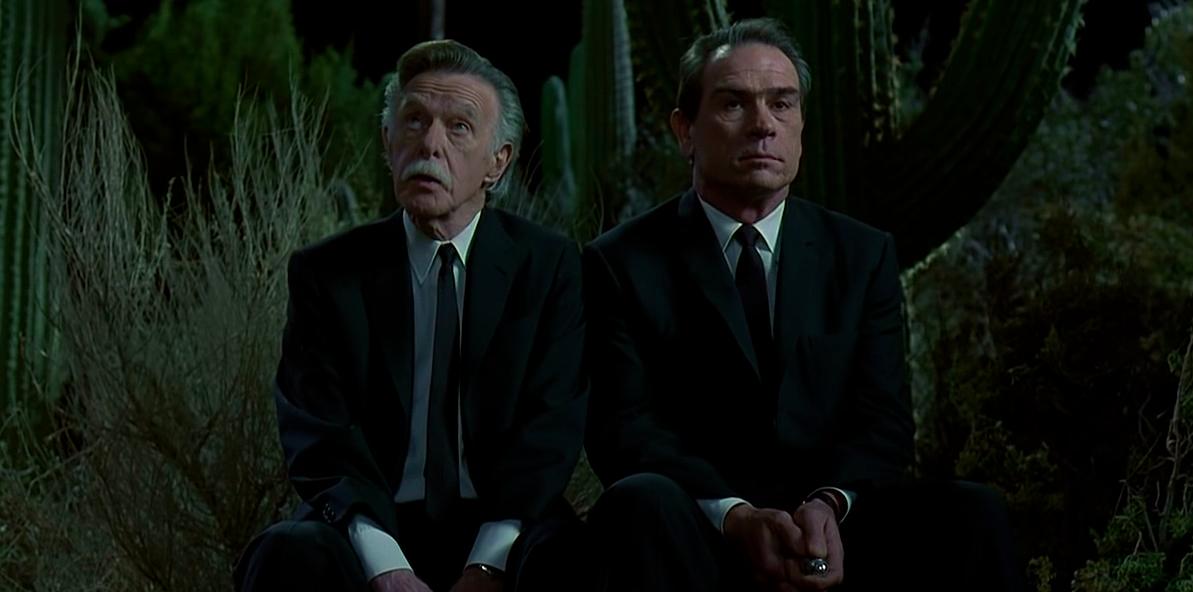 Agent K (Tommy Lee Jones) is one of the top agents of MIB. After his old partner Agent D (Richard Hamilton) retires, he's in need of a new one. Of course, MIB only recruits the best of the best of the best.
Soon, Agent K discovers a potential new partner, James Darrel Edwards III (Will Smith) of the NYPD. He actually chased down an alien criminal on foot, which very few people can actually do. I can still remember how hilarious Edwards was during the chase. Everyone in the theater was laughing loudly.
The head of MIB is Chief Zed (Rip Torn). He provides the new recruits (Edwards included) a series of tests to see which government trained expert is the most worthy, starting with the struggle to fill out a form without something hard to write on. I don't know why Zed couldn't have just provided a table.
It appears that Edwards passed all of the tests, but he's uncertain whether or not to accept because there's a major catch to being an MIB agent. No one can know that you exist and everything in your personal file will be erased. Edwards soon accepts and becomes Agent J.
Agent K shows Agent J around MIB headquarters, where humans and aliens coexist easily. They also keep aliens that are in human form under surveillance, wherever they are. I couldn't help but notice that Steven Spielberg and Sylvester Stallone were among them.
The main enemy alien Agents K and J face is Edgar the Bug (Vincent D'Onofrio), who is after something called the galaxy in order to conquer the Arquillian race with Earth as the battleground. Agents K and J are now on the case to find the galaxy, but have no clue what it is.
Luckily, with the help of morgue worker Dr. Laurel Weaver (Linda Fiorentino), they find a clue from one of the Arquillians, who was killed by Edgar. "To prevent war the galaxy is on Orion's belt." It's not much to go on since there is no galaxy on the constellation of Orion's belt.
To make matters worse, the Arquillians threaten to destroy the Earth if the galaxy is not returned to them. Thanks to the hot sheets, which are actually supermarket tabloids, Agents K and J manage to identify Edgar. They arm themselves, but all Agent J gets is the little noisy cricket gun. As silly as it looks, the noisy cricket is actually a very powerful weapon.
Agents K and J soon discover what the galaxy is, but Edgar finds it first and kidnaps Dr. Weaver. Agents K and J do catch up to Edgar as he tries to escape the planet and reveals his true form. I can remember the struggle between Agent J and the bug alien had won an MTV Movie Award for Best Fight back in 1998.
This was a good movie that was the start of a popular franchise. What gets me is that all of the MIB agents are only identified as a letter of the alphabet. So does that mean there are only 26 agents in the entire agency?
One last item: There's also a Men in Black attraction at Universal Studios called Men in Black Alien Attack, where you get to shoot invading aliens all around Manhattan. It's like being on an MIB adventure, only with a scoreboard, but mind all the spinning around the vehicle will do on occasion.