Normally I don't do follow-ups from previous top 10 lists, but I recently found other pop culture villains I'd like to add. Feel free to check my other list of Top 10 Underrated Villains for a comparison. So here's another group of favorites.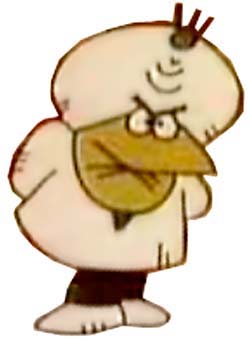 #10) Spell Binder from The Electric Company (70s version): He is the arch nemesis of Letterman in the reoccurring Letterman animated segments. Spell Binder likes to cause chaos by magically changing letters in words, thus also changes the object, only to be defeated by Letterman who uses letters to change the words and object back to normal. Spell Binder does appear lame compared to other villains, but if you think about it, the chaos he causes is pretty effective in the long run.
#9) Scorpina from Mighty Morphin Power Rangers: Let's face it. She was a standout villainess when she fought alongside Goldar. However, Scorpina was removed from the show due to lack of footage, which is understandable. On a side note, Lamy from Super Sentai Zyuranger, who was later known as Scorpina, was just as interesting after seeing what footage had not been used on Power Rangers. My only real concern was that Scorpina wasn't written out of the show gradually. She just suddenly vanished with no explanation of what became of her.
#8) Mezmeron from PAC-Man the Animated Series: Normally, PAC-Man's enemies are the ghosts. In this version, the ghosts have a master who appears more intimidating. As powerful as Mezmeron is, he never fights his own battles. More importantly, this is the only version of PAC-Man he's ever been featured and even then he hardly ever appeared. It would've been nice to see this villain more often, possibly as a final boss in the video game. That already sounds awesome.
#7) Lorena (Mariana Klaveno) from True Blood: Of all the vampires on this show, I find Lorena the most incredible. When it comes to love, she is very possessive and can be short tempered from time to time, especially if anyone speaks against her. Even though Lorena was slayed, I might have expected her to return later on in the series. I mean, if slayed vampires can return on shows like Buffy the Vampire Slayer and Angel, why not on True Blood? Of course, that never happened.
#6) Lord Maliss from Happily Ever After: He's the brother of the Wicked Queen from Snow White that's even more dangerous. This dark wizard can turn into a dragon and has a cape that can turn anyone into stone. On top of that, no other version of Snow White has such a character. So Maliss truly stands out, even though his only true goal is revenge.
#5) Taminella Grinderfall from Muppets franchise: This classic wicked witch character is an oldie but a goodie. Whether her evil plots are scary or goofy, Taminella was what helped make the classic Muppet Fairytale specials so magical and exciting as part of the fantasy genre, next to King Goshposh and Featherstone. With the Muppets still hugely popular, Taminella has never made an attempt for a comeback. It would be nice if she did. That is, whenever the Muppets decide to make a new fantasy film someday.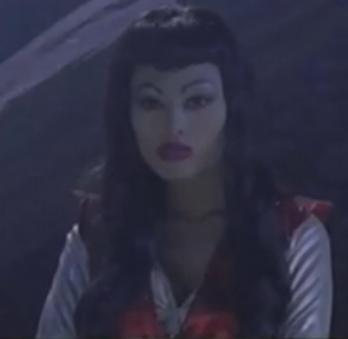 #4) Vam-Mi from Ninja Turtles: the Next Mutation: When it comes to vampire women, it seems like Vam-Mi is one of the least likely to come to mind. However, this 2000-year-old Chinese vampire is both dangerous and powerful despite that she can also be a total drama queen when things don't go right. I find Vam-Mi as interesting as she is unique. Too bad she only appeared in the four-part episode "Unchain My Heart" and was never featured in the franchise again afterward.
#3) Cracklin from The Adventures of Raggedy Ann and Andy: I'll admit that it can be hard to take this dark wizard seriously as a villain because of his intense allergies to animal hair. As the arch nemesis of the Raggedys, Cracklin is very fearsome and powerful when it comes to using magic and will do anything to become even more powerful. His reasons are unknown as well as his background, but one thing is for certain. Cracklin is not one to take lightly, even if his sneezing is strong like the wind.
#2) Zira from The Lion King 2: Simba's Pride: Most of the Disney villains are hugely popular, even the ones that were only in one movie. Zira is one of few who are often overlooked. Sure, Scar was an interesting villain, but Zira is even more ruthless. Even though she was never mentioned in the first movie, Zira knew Scar before his demise and seeks revenge on Simba. She'll do anything to kill Simba, including training her own cubs to hate and kill. Now that's just low.
#1) False Face from Batman franchise: Of all the villains Batman has gone up against, this is the creepiest and most mysterious. He's a master of disguise and commits crimes by leaving his calling card, a false quote. False Face has appeared in several different versions of Batman, which includes Batman Beyond, but the one I remember best is his appearance in Batman (60s version). As one of the most difficult criminals to catch, False Face isn't featured often. He's also not on the same level of popularity as Joker, Penguin, Riddler, etc., but I think he ought to be, despite that his origin story isn't revealed.