In this hilarious Anime comedy, Squid Girl (2010-2011) is a girl from the sea with squid-like qualities like tentacles as extra arms, glowing in the dark, spitting squid ink, and her love of shrimp. Boy, does she love shrimp. Squid Girl vows revenge on mankind for polluting the ocean. As determined as Squid Girl is, she isn't very bright and always fails when it comes to dominating people.
The first building Squid Girl finds after coming out of the ocean is the Lemon Beach House, which she originally planned to make as her base of operations, but after damaging one of the walls, the beach house manager Eiko has her work off the damage as a waitress. Eiko is a strong-minded girl. When Squid Girl drives her crazy, it always leaves me laughing.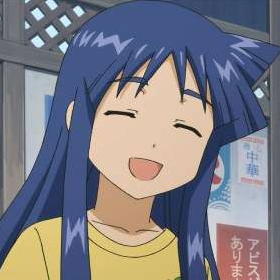 However, the one who really keeps Squid Girl in check is Eiko's sister Chizuru, who is the beach house cook. Sure she appears kind, but Chizuru has incredible strength and fighting skills, which is enough to make Squid Girl afraid of her. It makes you wonder where Chizuru learned those skills.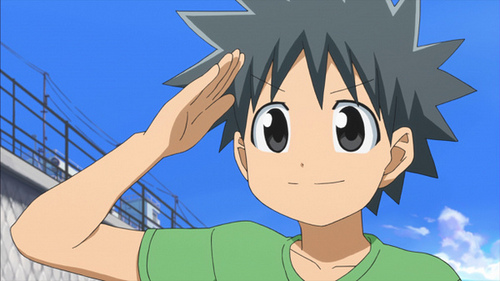 Then there's Takeru, who is Eiko and Chizuru's little brother. He enjoys Squid Girl's company and loves to play with her, no matter what her game is.
At MythiCon 2013, I got to meet Marianne Miller, who voices the role of Takeru's friend Yuuta. When she talks about Yuuta, she often mentions that he talks about poop. This is a reference to the episode when Squid Girl builds a sandcastle that looks like poop.
Occasionally Goro, who is one of the lifeguards, comes to the beach house and Squid Girl always secretly swipes the shrimp from his meals. Goro is devoted to his job and many girls find him attractive. If only he had the courage to talk to Chizuru, whom he has a crush on.
Later on, Squid Girl meets other human friends like Sanae, who has an obsessive crush on her, as well as surfer girl Nagisa, who actually fears Squid Girl. Squid Girl loves to take advantage of that as a big break in her attempt to invade mankind.
There are also extraterrestrial researchers who believe Squid Girl is an alien. Leading the group is Cindy Campbell. She's obsessed with getting Squid Girl to admit that she's an alien, even though she isn't.
If you think Cindy is funny, you should definitely see the rest of her team. Harris, Clark, and Martin are just as obsessed as Cindy is if not more so. They are hilarious, despite that they always brag about being MIT graduates.
Of course even beach houses have competition. The strict owner of the Southern Winds Beach House, whose name is never revealed for some reason, finds out about Squid Girl and tries to capitalize on her popularity. He has his shy daughter Ayumi wear masks of Squid Girl's likeness with crazy gadgets inside that often backfire.
I can't help but feel sorry for Ayumi when that occurs, but she becomes a little more comfortable when she works at the Lemon Beach House occasionally.
I also met Tony Oliver, who voices Clark and the unnamed beach house owner, at Anime Festival Orlando 2010 and again at AFO 2013.
I enjoyed this Anime series. Even though Squid Girl intended to invade the surface world, she ends up finding friends and family instead, not to mention a few unwanted admirers.