The masked killer Michael Myers (Tyler Mane) is back in the Rob Zombie sequel Halloween II
. It starts right where the first Halloween movie left off. Michael's sister Laurie (Scout Taylor-Compton) barely survives and gets treated at the hospital, but did we really have to see all of those extreme close ups during the mending procedure?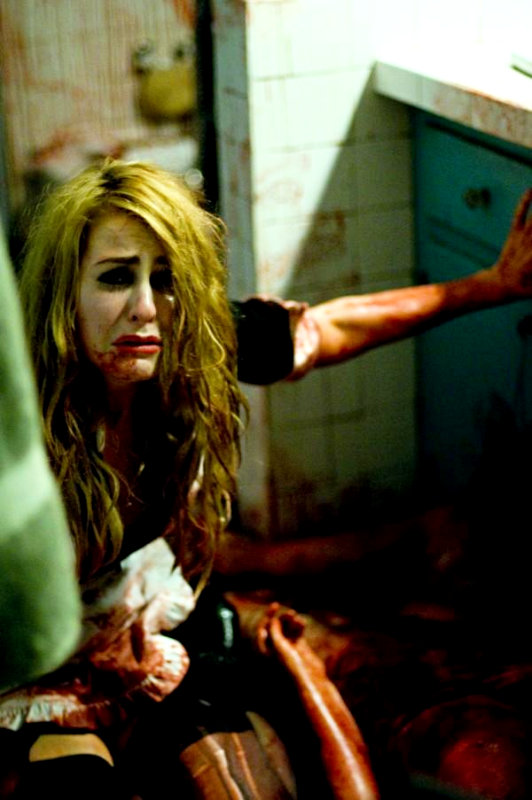 At this point you'd think that Michael Myers is dead, but as it turns out, he is still alive and slashing. He continues to hunt for Laurie and kills anyone who gets in his way. Every so often there's a scene with completely random characters having different conversations, which are unrelated to the basic story line, but still match Rob Zombie's brand of humor. Then all of a sudden, there's Michael butchering everyone again.
However, this story line does go further than just Michael Myers on the loose. Two years later, Laurie and Annie (Danielle Harris) have recovered. However, Laurie still gets nightmares about Michael coming for her, due to lack of closure from within.
Malcolm McDowall returns as Dr. Loomis, who has also recovered from his wounds in the previous movie. Loomis is now on a book tour with his book about his adventure with Michael Myers. However, it's not entirely glamorous for him when some people believe that Loomis is partially responsible for Michael's actions.
Things become more intense when Michael sees apparitions of his mother Deborah (Sheri Moon Zombie) and his younger self (Chase Vanek). Laurie also sees them in her dreams, even when she's awake. This causes Laurie to turn against Annie and get drunk with her friends at a Halloween party.
Weird Al Yankovic (as himself) makes a cameo as a celebrity guest on a talk show, which Dr. Loomis also attends to talk about his book. That becomes a disaster for Loomis, but Weird Al has such witty commentary during the interview.
The Halloween party Laurie goes to features great music and a comedic emcee, Uncle Seymour Coffins (Jeff Daniel Phillips), who likes to howl and tell blonde jokes. Unfortunately, Michael also arrives and Laurie sees the apparitions of her mother and young Michael again. They want her to join them so they can be a family again. Oddly, no one else can see or hear them. Soon Laurie has run out of options as Michael finally catches up to her.
This sequel was good, but gorier than before. It also featured a white horse as a term for dealing with psychosis. I had no idea.