In the Sega Genesis game Bubsy in: Claws Encounters of the Furred Kind, Bubsy is a heroic cat with the jumping skill and speed of Sonic the Hedgehog. Evil space aliens called Woolies invade Earth to steal the world's yarn and only Bubsy can stop them. It makes sense because cats love yarn.
The Woolies are crazy creatures that attack by throwing eggs and cheese wheels. The Woolies also blow their noses at Bubsy. Seriously guys, get a tissue! Other enemies Bubsy faces are brain dead birds, little flying saucers that look like yarn balls, and other cartoonish creatures.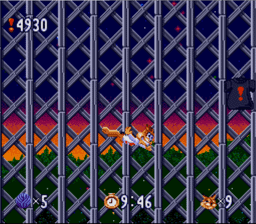 Bubsy's antics are cute and cartoonish and the beginning of each stage has him say something cute and funny. You got to love it. However, Bubsy doesn't take any hit points. If touched by an enemy or an obstacle even once, he dies instantly. That makes the challenge frustrating and leaves me to think that Bubsy is a total wimp. That's why his gliding skill comes in handy because even high drops to the ground kill him easily.
There are 16 levels in this game. Each group of three levels has its own theme with a boss at the end of the third one. The groups include a meadow, a carnival, a canyon, a forest, and a jungle before making it to the Woolies' mother ship, where Bubsy must face their leaders, Poly and Ester.
When you leave the game unattended without pausing, Bubsy actually knocks on the screen to get your attention. And I thought Sonic had problems with patience.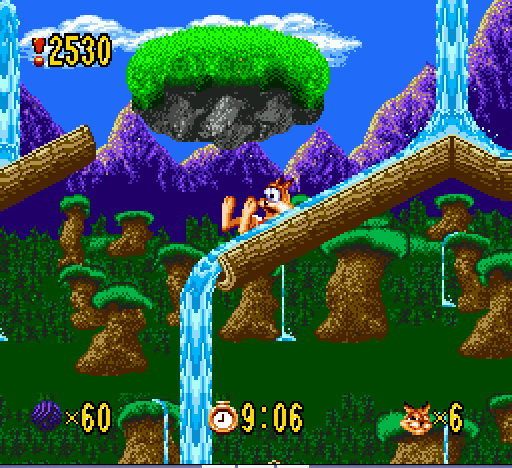 To add to the cute excitement, cats hate water. Some of the levels have oddly shaped water slides Bubsy crazily slides down. They don't kill him as long as he lands safely.
This is a cute platform game. If only Bubsy would take more hit points, then he would be able to pounce on his enemies more efficiently.