Even though many of the classic Disney movies first premiered way before our generation, they still continue to be big favorites today. One such classic is Disney's Robin Hood. Believe it or not, this was the very first version I ever saw that wasn't used as an episode plot in various cartoon series.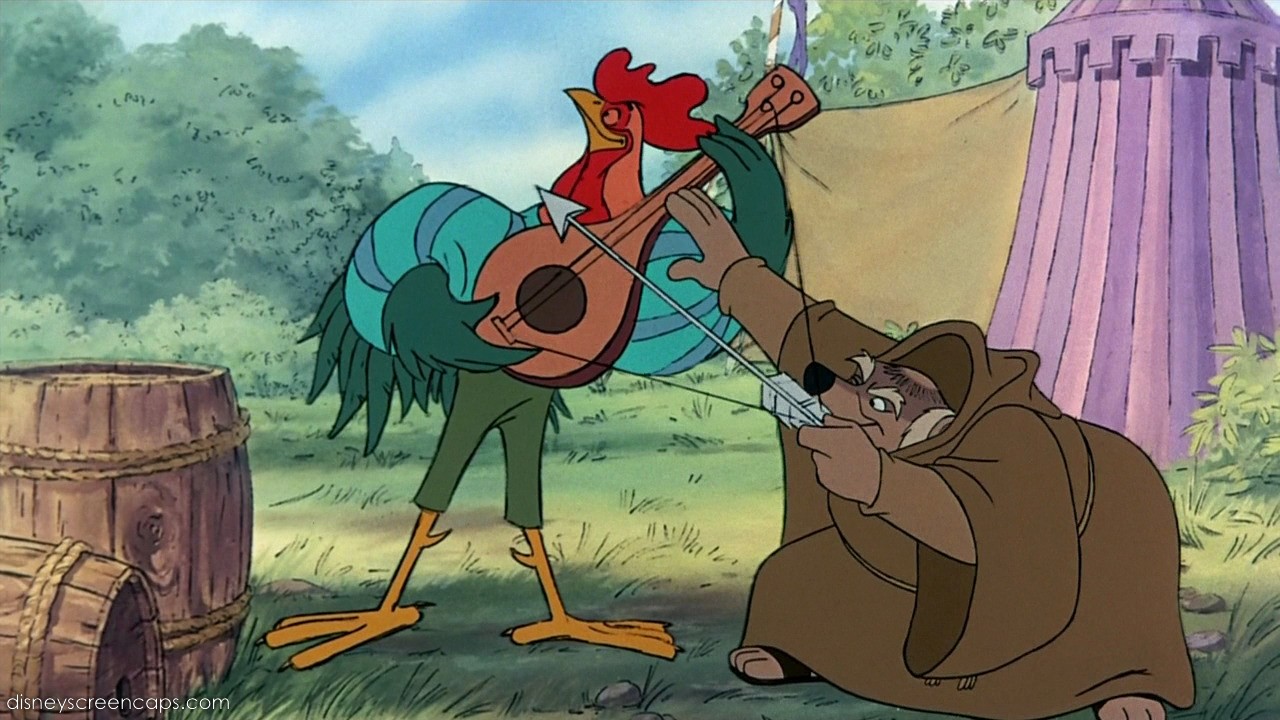 There were some confusing factors when compared with other movie versions of Robin Hood. It's not that all of the characters are animals, far from it. I'm talking about other important items that were left out. They include Robin Hood not being identified as Robin of Loxley, the Merry Men (Only limited to Robin, Little John, and Friar Tuck) not featured as a group of Saxons, and there is no Will Scarlet.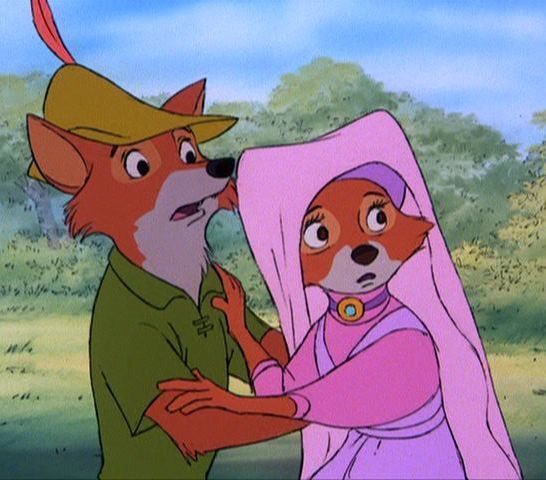 Of course, Maid Marian is Robin's love interest. Even though she wasn't featured very much in this version, it was easy to tell since they're both foxes. What I found confusing about Maid Marian is that King Richard is her uncle. So does that mean Prince John is her father? Nah, it couldn't be. Of course there was no mention of who he is to Marian.
Speaking of Prince John, he is greedy and cruel, but a real mamas boy, unlike other versions. Whenever Prince John thinks of his mother, he goes crazy saying "Mommy" and sucks his thumb. That just makes it too easy to make fun of him, which does happen on a couple of occasions.
Now let's talk about the Sheriff of Nottingham. In other versions of Robin Hood, the Sheriff desires Maid Marian. Here he just collects taxes for Prince John, even taking from children and the poor boxes without a care. That's just low, but it makes him a more interesting villain.
Robin and Little John go through many different disguises to rob the rich so they can give to the poor, which explains the extra laundry. One thing's for sure. They are heroes to the people of Nottingham, including 7-year-old Skippy, who idolizes Robin Hood after getting the perfect gifts from him.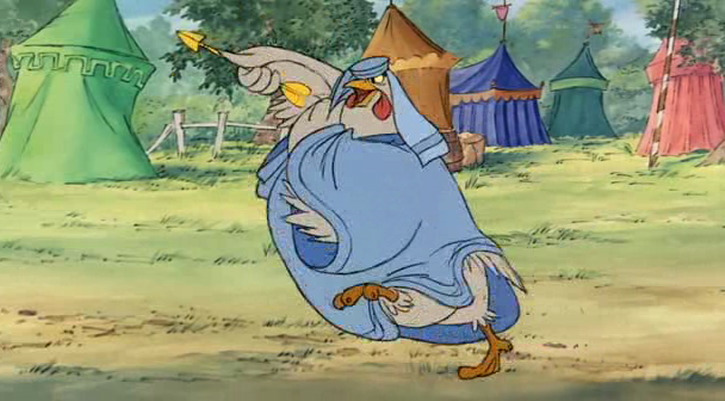 This movie also has plenty of exciting action. I'd have to say that my most favorite part is the fight scene after the archery contest. Maid Marian's companion Lady Cluck is one tough bird. She uses the golden arrow trophy as a weapon to poke soldiers in the behind.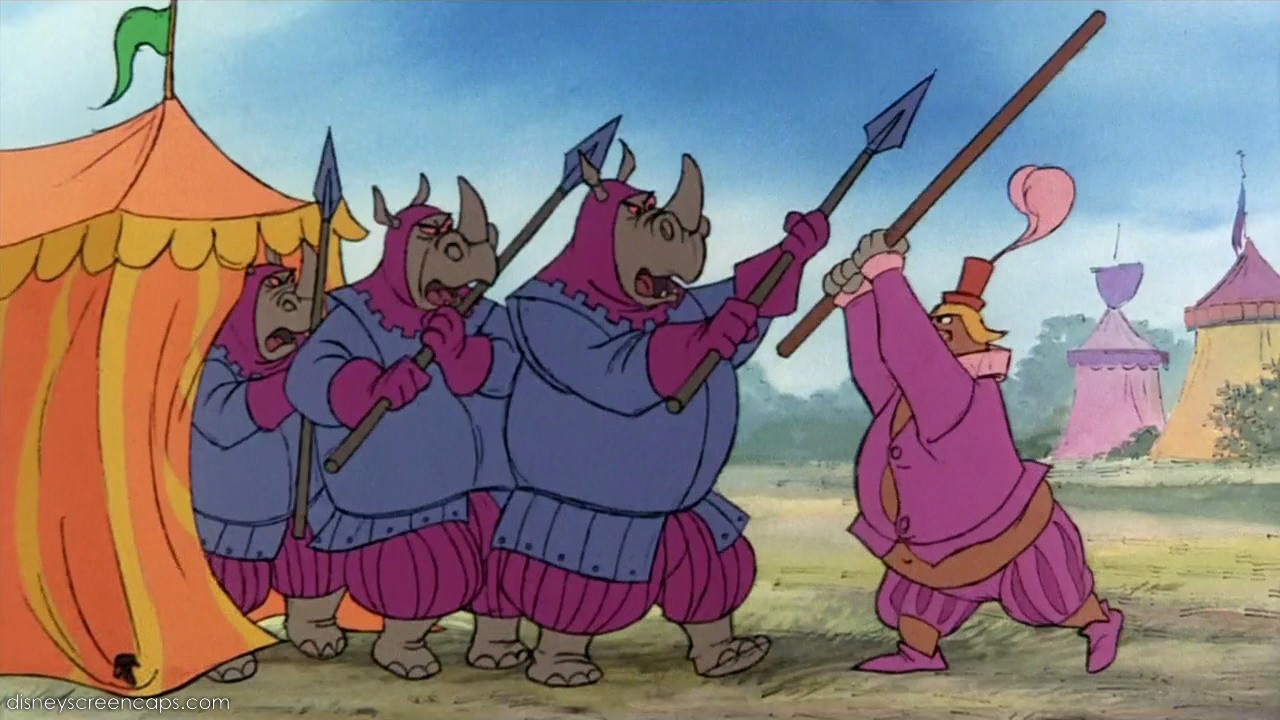 What really made this stand out was when a bunch of soldiers got caught inside a tent and Lady Cluck turned it into a runaway tent that crashed into everything in this path. It wasn't clear if the runaway tent actually stopped when it took down that brick tower. It could've run into the sunset for all I know.
Right after that there was a romantic scene with Robin and Marian. It was hard to pay attention to because all I could think about was that battle scene. That soon changed when the villagers celebrated with Little John singing about Prince John.
Out of revenge, Prince John increased the taxes, which caused most of the villagers to go to prison. Then he planned to hang Friar Tuck to bait Robin into a trap. Things become more intense as Robin and Little John attempt a jailbreak.
This movie is truly a classic version Robin Hood, next to Robin Hood: Men in Tights. Each character's persona matches what animal they are. Alan A'dale the rooster claimed that it was the real tale, but I don't know. What do you think?