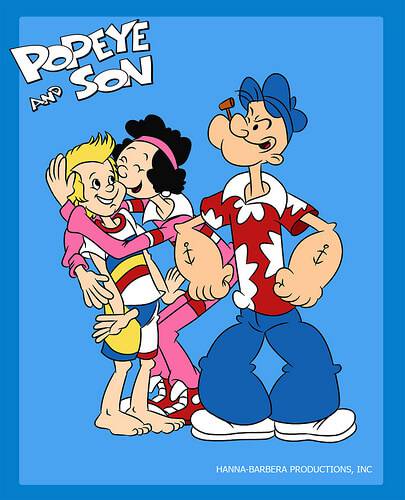 There have been many versions of Popeye over the years, but Popeye and Son (1987-1988) takes the franchise to a new generation. Popeye had married his long-time girlfriend Olive Oyl and they had a son, Popeye Junior.
Junior's favorite pastimes are surfing and hanging out with his best friends Woody, Polly, and Deedee, but when there's danger, Junior can gain super strength from eating spinach just like his father, matching muscles and all.
No matter how many times Junior eats spinach, he never grew to like it, but he always does when it's important. It's most exciting when Junior rescues Deedee from peril, even though there's no mention of whether or not Deedee is his girlfriend.
Bluto is married to a woman that's only mentioned as Mrs. Bluto and they have a son, Tank. Like their fathers Tank and Junior are enemies, but it's not because of a love triangle. Tank is just a school bully, usually accompanied by his friends Puggy and Rad. However, Bluto isn't as mean as he used to be compared to Tank, but do you think he'll ever change?
Wimpy returns in this series as well and he runs a hamburger joint that Junior and his friends go to all the time. Wimpy also has a nephew, Francis, who helps him run the place. Francis is Junior's friend, but hardly ever gets involved in the adventures the other kids have.
This was a good series with the adventure and excitement you would expect from a Popeye cartoon. One thing I don't understand though. If Popeye raised Sweet Pea, why isn't he on this show as Junior's brother all grown up? Not to mention that Popeye's nephews aren't featured either. That's certainly a huge plot hole if I ever saw one.