Sesame Street – Put Down the Duckie is a feature I remember well long before it was released on DVD. Back in 1988, it was advertised as The Sesame Street Special and premiered on Prime Time. When I first heard about it, I couldn't wait to see it, despite the fact that the network had a telethon that ran through some of the time slot. Don't you just hate that?
The special starts with Gladys Knight and the Pips performing the extended version of the Sesame Street theme, then Phil Donohue interviewing the people on the street. Of course everyone wants to speak. It was enough for Phil Donohue to take off. I remember Phil Donohue having a popular talk show back in the day but never understood it.
From here on out, this feature is all songs and segments from previous episodes of that season. The highlights include the Monsterpiece Theater segment The 39 Stairs, Grover as a singing and dancing waiter in a Spanish restaurant, and the Jellyman Kelly song.
Of course the biggest highlight in this feature is Hoots the Owl and his band performing Put Down the Duckie as Ernie struggles to play the saxophone while holding his rubber duckie. As an extension to the catchy song, various celebrities join in like Danny DeVito, Rhea Perlman, Madeline Khan, Paul Simon, Jane Curtain, Pee-Wee Herman (Paul Reubens), and bunch of others I didn't recognize.
Speaking of celebrity guest stars, in another segment Bob (Bob McGrath) sings People in your Neighborhood, which features Barbara Walters getting the scoop on Bob and Linda's (Linda Bove) relationship and Ralph Nader practically destroying Bob's sweater as he inspects it. This segment seems much different compared to past versions of this song because it's not as innocent as before when comes to describing each person's job.
I can also remember back in the day when Robert MacNeil was a news correspondent on PBS. He appears on this feature to investigate a missing cookie story by talking to Cookie Monster. Kermit the frog also appears as Cookie's lawyer.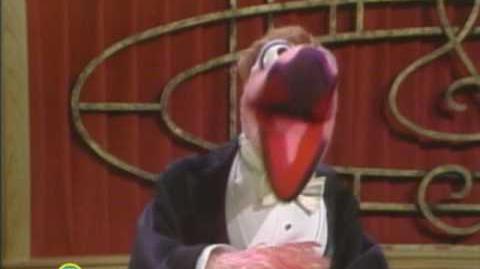 The final segment is called Pretty Great Performances, which features an all animal orchestra performing Italian Street Song with Placido Flamingo. Who remembers this character? Looking back now, he sounds just like Wayne from The Muppet Show, especially when he sings.
This was certainly a classic Sesame Street feature, especially since it was only on TV once. You still won't find this feature on cable because it's now part of Sesame Street Old School. By the way, when do you think they'll release Sesame Street Old School: Volume 4 on DVD?