The Smurfs were big favorites of mine back in the 80s. You can definitely tell by the old merchandise I have collected over the years. Does anyone remember any of this stuff?
Since the cartoon series ended in 1990, they had not been seen or heard from in a long time until their triumphant return in The Smurfs
movie back in 2011. They were also on Robot Chicken, but that's another story.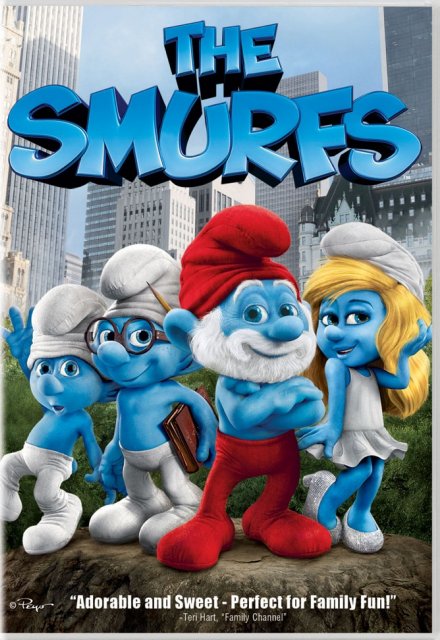 In this modern feature, the evil but hilarious wizard Gargamel (Hank Azaria) plots to capture the Smurfs as usual, but this time he has an edgier plan to use their blue essence to become the most powerful wizard in the world. Meanwhile, Papa Smurf (voice of Jonathon Winters) receives a vision about the Smurfs' impending doom and Clumsy (voice of Anton Yelchin) is responsible. Clumsy is like the underdog in this movie because nobody believes he can do anything right for he is always clumsy.
Soon, Gargamel finds the village and the Smurfs manage to escape. However, Papa Smurf, Clumsy, Smurfette (voice of Katy Perry), Brainy (voice of Fred Armisen), Grouchy (voice of George Lopez), and new character Gutsy (voice of Alan Cumming) get separated from the others and end up in a portal to modern day New York City. If that wasn't bad enough, Gargamel and Azrael follow in pursuit. I guess that means we don't get to see Jokey (voice of Paul Reubens) use his exploding boxes more than once.
While the Smurfs figure out how to get back home, they meet Patrick Winslow (Neil Patrick Harris) and his wife Grace (Jayma Mays) after traveling on top of a taxi. Actually, the Smurfs traveled that way several times but always manage to blend in because there always happens to be a blue ad on top of the cabs. What are the odds of that?
Patrick is a father to be and the new vice president of marketing at a modeling agency, who struggles with self-doubt. His job is on the line because his strict boss Odile (Sofia Vargara) demands a new ad campaign in two days. The Smurfs try to help Patrick out whether he likes it or not, but it's really Papa Smurf who helps Patrick understand that true success comes from the heart.
Meanwhile, Gargamel sets up a headquarters at an old castle. Azrael manages to get some of Smurfette's hair for Gargamel to use, despite that it was from a hairball he hacked up. In fact, Azrael is hilarious with his many cat-like behaviors he never did before like licking his butt and jumping on the dinner table during a meal.
Papa Smurf comes up with a plan to get back home. First get a stargazer and then find a book of spells to make the full moon blue in order to open the portal. Such things are hard to find in this world, but the Smurfs manage to find them while dodging Gargamel and other people.
This was a great film with these classic characters. I heard that a sequel is coming out this summer. I wonder if it will feature other reoccurring villains from the cartoon series like Big Mouth, Hogatha, Clorhydris, or allies like Yohan the knight and his squire Pee-Wee. Only time will tell.