I'll admit that the Super Mario Bros. franchise can be difficult to keep track of because it often breaks continuity. So to help make this clear, New Super Mario Bros. U
for Nintendo Wii U is the direct sequel to New Super Mario Bros. Wii.
This time Bowser tries something new. Instead of taking Princess Peach to his castle, Bowser takes over Peach's castle and sends Mario, Luigi, and the two Toads far away. Now they have to work their way back home, which gives the adventure a different approach while still following the same formula as most of the other previous Super Mario Bros. titles.
The Koopalings also return. This time each of them has a separate airship with their faces out in front. There are still castles, but the Koopalings aren't actually in them even though you still have to go through them.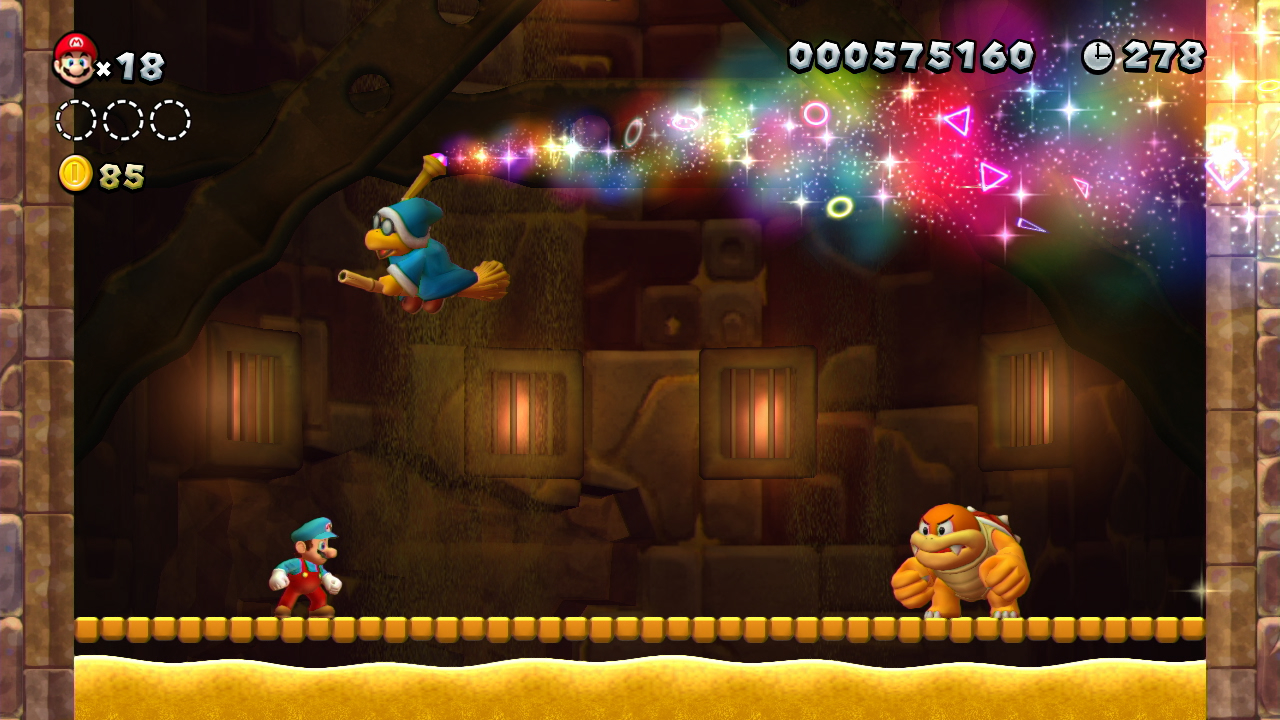 Another big difference is that the guardian of each tower is Boom-Boom, and Kamek makes them more advanced with his magic. This sure reminds me of classic Boom-Boom from Super Mario Bros. 3, only more graphical.
I should also point out the change in power ups. In place of the copter hat and penguin suit is a flying squirrel suit. It allows you to fly but it's very awkward. Unlike the copter hat that let's you fly straight up, the flying squirrel suit always goes at an angle making it hard to control while in midair. On the bright side, there are P-Acorn power ups that let you fly through the whole level. It still took a while for me to figure out how that worked.
Normally navigation isn't a problem in a Super Mario Bros. game, but there are areas that are very difficult to find your way around. Some of the ghost houses don't have any clear paths and with a time limit that makes it worse. There's also an area in the Soda Forest where you have to find the secret exit to continue forward on the map. That was so difficult to figure out, I had to look it up on YouTube. It never should have been that complicated. This is why I prefer the boss battles over the rest of the levels.
On occasion there's a character called Nabbit that hides in a random level which has already been cleared. The object is to catch up to him as you go through the level and you get an item that he stole from Toad. It's tough to do but at least the level ends once you catch Nabbit and not have to carry him to the end like the captured Mushroom people in the previous game.
As you get closer to Peach's castle, Bowser shows how much more powerful he is by replacing the flags with Bowser banners and eventually surrounding the castle with an eerie tornado. It's so cool when you hear the windy effect it makes.
Then it all comes down to fighting Bowser at Peach's castle, which has lava everywhere. Once again you use the "bridge out" method at first, then Bowser becomes giant sized. I'll tell you, this is definitely one of the most exciting Bowser battles I have seen yet. That's especially because you actually get to fight him instead of running for your life and dodging lava that kills you in one hit.
This was certainly a good follow-up to New Super Mario Bros. Wii. Despite the challenge being tougher than usual, there were plenty of redeeming factors. Mostly it's for nostalgia coinciding with the new items like the return of such enemies as Torpedo Ted and the Sumo Brother that have not been featured since Super Mario World.