Welcome back. Not too long after the success of the original Castlevania game, there came the sequel Castlevania 2: Simon's Quest for the NES. I must admit, when the title says "quest" they aren't kidding.
Although the task is the same as in the first game, with an additional prologue, this game takes on a whole different approach.
That's right. Castlevania 2 is indeed a quest game. As the story goes, after Simon Belmont defeats Dracula in the first game, Dracula's body parts were scattered in five separate mansions. Now it's up to Simon to gather them all up, bring them to Dracula's castle, and defeat the Count once again. Oddly, the body parts only consist of Dracula's rib, heart, eyeball, nail, and ring. So where's the rest of him? Back at his castle?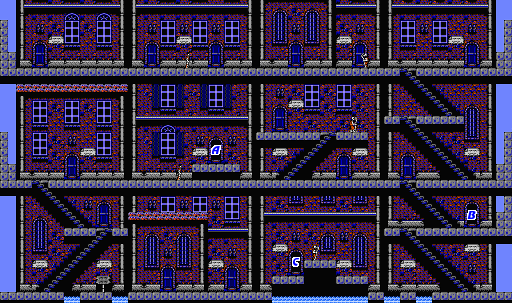 In a way, it's like the Legend of Zelda franchise. You go through different towns to talk to people, hunt around for hidden items and clues, and collect hearts by killing enemies and use them for currency to buy items and weapon upgrades. Normally I hate those kinds of games, mostly because I never know where to go, but this game is one of few exceptions because I have a map in a Nintendo Game Atlas. But let's face it, no matter how many times I play this game, I need the map every time.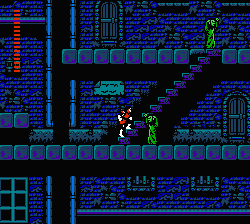 There are points that are annoying like when it becomes day and night, leaving the impression that Simon's task takes days to complete. The enemies are stronger at night and the townspeople are all asleep while zombies roam the streets. On the bright side, it helps you collect hearts because the items and upgrades are expensive. One thing I find odd is that the time elapsed is unaffected inside the town buildings and mansions. Okay, does that mean all time stands still when you're indoors?
Unlike the other Castlevania games, the bosses are pretty tame and it's not because there are only a couple of them. I wonder if it has to do with including the Grim Reaper in this game, since he's a boss in every Castlevania game, at least all the ones I've played.
It also includes Dracula himself. He's actually pretty easy as long as you have the golden knife and some laurels to make you invincible for a short time.
Even though I have this game figured out, thanks to a Game Players strategy VHS tape, one thing that usually puzzled me was the ending sequence. There are actually three different endings and it's hard to tell which one you're going to get. Does it have to do with how many items or hidden clues you find? I've been trying to figure that out for years since there were no other sources that mentioned it. Then not too long ago I finally find the answer, thanks to YouTube. The ending sequence is entirely based on how fast you get through the game. Wouldn't you know it? Just like with Metroid, it's all about speed.
Needless to say, Castlevania 2 is an improvement from the first game. The graphics are better, the obstacles and enemies aren't as irritatingly difficult, and despite the need for a map every time, the game play is enjoyable. It's not over yet though. Check my blog for part 3 for the next classic Castlevania game.