Welcome back. Well, if you thought the Super Mario Bros. graphic novel was something, you should see this one. It's called The Best of the Nintendo Comics System and it contains comics about other Nintendo franchises that are just as rare.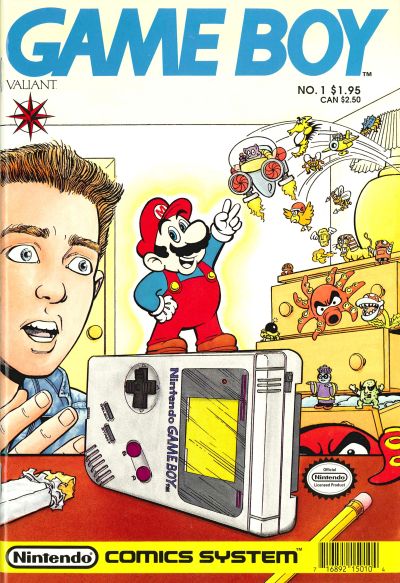 It starts with Game Boy: In the Palm of your hand. You remember the original Game Boy? Back then the most popular game at the time was Super Mario Land. I expected this to be about Mario's adventures in that world, but it isn't. It's about all of these characters coming into the real world and causing havoc. What a disappointment, and even though Princess Daisy appears, she is nothing like the modern version.
Next we have Legend of Zelda comics. Now here's some great material, but once again it's much easier to reference this to the cartoon series with all of the sword zapping battles and Link attempting to get Princess Zelda to kiss him. However, there are some references to Zelda 2: The Adventure of Link, like Link's friend Bagu, who helped him cross the Saria River.
Would you believe it? There are some comics about Captain N: The Game Master as well. One major difference from the cartoon series is that Samus Aran actually appears and helps the N team on Metroid. What a gorgeous blonde she is.
Another major difference is that Mother Brain's league of evil also included a villain named Unanos. I have no idea what video game he's from.
Then there's a Metroid comic, which is about one of Samus's adventures in space as she battles Mother Brain and her forces. It's unfortunate that there's only one here.
The last group of comics in this graphic novel is about Punch-Out. Now I've never played Punch-Out, so this is tough to get into. From what I understand, it's about a struggling boxer named Little Mac that's being trained by former heavy weight champ Doc Lewis in order to be the best.
If you thought that the referee in the video game looked a lot like Mario, in the comics he actually wears the hat. Can you believe it?
There you have it. Two awesome graphic novels containing classic adventures based on Nintendo characters. It's too bad they don't make comics like this anymore.