Based on the Nintendo DS game, Sands of Destruction: The Complete Series
(2008-2009) is about a post-apocalyptic world where the seas have become sand and humans are slaves to beast men. I like the idea of talking animals co-existing with human beings, but some of them can be pretty brutal at times.
The heroes are a group of travelers called the World Destruction Committee. Leading the pack is Morte a young warrior with a troubled past. She feels that the only way to save the world is to destroy it and she has the one tool that can make it happen. It's a black sphere called the destruct code.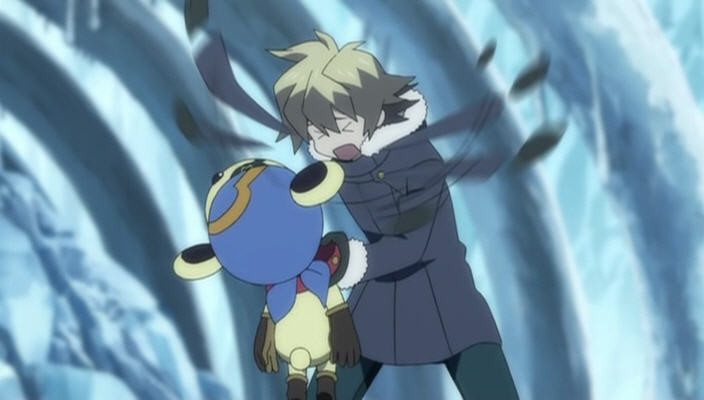 Her companion is Kyrie. Though he is cowardly and doesn't know how to fight, Kyrie loves to cook and wishes for a better world where humans and beast men can live in harmony. In a way, he's a good influence on Morte. Of course, she'll never admit it.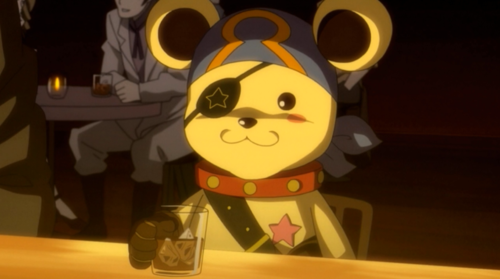 Then we have Taupy the bounty hunter. He's a talking dwarf bear that always ends most of his sentences with "Kuma", no matter the subject. For some reason, Taupy doesn't like to be called a bear, even though he obviously looks like one.
Together the World Destruction Committee has faced many dangers and enemies. On occasion they meet up with Agan. He's a smuggler that delivers all kinds of goods with his ship, as long as the price is right. Agan does seem trustworthy and glad to help out when Morte, Kyrie, and Taupy are around.
The main enemies the World Destruction Committee faces are the World Salvation Committee, which only consists of two members. The first is Naja, who is an intellectual half-man half-beast. I don't see how he is half beast, since he looks really human.
The other is Rhi'a, who is a pretty dragon girl with a short temper. She's quick to use brute force over words when enraged. I admit that Rhi'a is a cool fighter, especially when she reveals her dragon wings, tail, and horns.
This was a good Anime series. It's unlike most that I've seen, especially since I never played the video game, but still contains much of the action and humor that I find enjoyable.