If there's one gimmick that helps make horror movies interesting, it's a trilogy of separate short stories put together into one film. So for Halloween this year, I'll be going over two horror trilogy movies from the early 1960s. The first one is Tales of Terror
, which are all based on Edgar Allan Poe poems. This was what first got me interested in the concept of horror trilogies, next to the Simpsons Halloween specials. Each tale begins with narration by Vincent Price and ends with a quote from the actual Edgar Allan Poe poem that it was based on.
It starts with Morella, which is about Lenora Locke (Maggie Pierce) visiting her father in a mansion that has so many cobwebs it's unreal. Where's the feather duster when you need it? However, Mr. Locke (Vincent Price) is drunk and blames her for his wife Morella's (Leona Gage) death since she died in childbirth. This certainly brings the term "dysfunctional family" to a whole new level. Especially when the ghost of Morella gets involved by switching bodies with Lenora in order to avenge herself.
The second tale is The Black Cat. Despite how angry drunk Montresor Herringbone (Peter Lorre) treats his wife Annabelle (Joyce Jameson), this horror tale is a bit lighter than the previous one. The biggest highlight is when Montresor goes to a wine tasting and meets Fortunato Luchresi (Vincent Price). The way Fortunato tastes wine is by sniffing it and squishing it around with quick breathing gestures, which I find hilarious. Montresor just takes a big gulp. To each his own. Of course the biggest plot point is how Montresor hate's his wife's cat. Not to spoil the ending, but the cat does get even.
Then the movie goes in a dark direction again with the third tale, The Facts in the Case of M. Valdemar. M. Valdemar (Vincent Price) is a dying man that has a hypnotist, Mr. Carmichael (Basil Rathbone), use hypnosis to ease his pain. However, while under hypnosis, Valdemar dies but his spirit cannot move on until Carmichael releases him. When Carmichael refuses, things become really creepy. Even though the horror standards were different from what we have today, I believe the outcome of this story still has the potential to give people nightmares.
A year later, Boris Karloff starred in a horror trilogy movie of his own called Black Sabbath
, which he also narrates. Just so you know, it has nothing to do with the rock band Black Sabbath, or any Edgar Allan Poe tales.
The first tale is called A Drop of Water. After an elderly medium passes away, Nurse Helen Chester (Jacqueline Pierreux) is summoned to the medium's house to prepare the body for burial. However, Helen is warned not to touch any of her belongings or be cursed. Helen doesn't listen and steals the ring off the medium's finger. After getting home, Helen is haunted by dripping water and the creepy vengeful corpse coming after her. I guess that will teach Helen to heed a curse. Some mediums can be very sensitive when it comes to their belongings.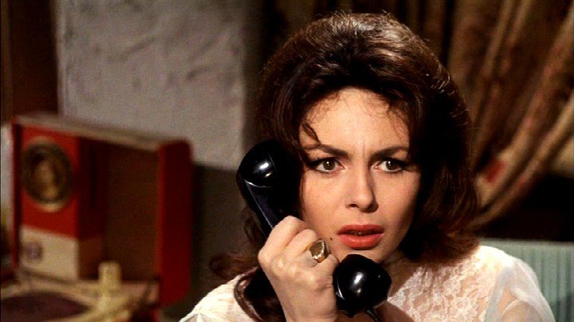 Tale number two is The Telephone. Long before the Scream franchise, as well as caller ID, this story is about call girl Rosy (Michele Mercier) getting frightening phone calls. They're from someone that Rosy thought was long dead. He's threatening her life and knows everything she's doing to the last detail, which drives Rosy into hysteria. This story has horror, but on a much different level from the previous tale.
The final tale is The Wurdalak, which is a vampire story that takes place in Russia. When young nobleman Vladimir Durfe (Mark Damon) takes shelter in a cottage, he finds the owner Giorgio (Glauco Onorato) and his family. They tell him that Giorgio's father Gorca (Boris Karloff) went to kill a wurdulak, which is a living cadaver that feeds on human blood, particularly the blood of loved ones. Soon Gorca returns and has become a wurdulak himself, slowly attacking his family. This story is an interesting one to end on. My only concern is that the pacing is very slow on at least several points.
I should also point out that even though Boris Karloff may be the star and narrator of Black Sabbath, he only appears in The Wurdulak in comparison to Vincent Price appearing in all three of Tales of Terror as well as being star and narrator.
These were both great trilogy movies of classic horror. Sometimes it's nice to look back on old horror after so many years, especially on Halloween. As for remakes on old horror movies, well that's another story.