An old fairytale takes a modern twist in Red Riding Hood
. In this musical adventure, Red Riding Hood (Morgan Thompson) lives with her family in a lighthouse near the ocean. It looks bigger inside than it does outside, but it's not wired for video games. I admit that can be rough.
Red gets sent to her Grandmother's (Lainie Kazan) house on a cliff near the ocean to deliver some chicken noodle soup, but her Mother (Debi Mazar) tells her to stay on the main road, and sings it too, because of the Wolf out in the woods. Does Red listen? Of course not. Red is a young teen, so she thinks she can handle the woods and doesn't believe the Wolf exists.
As it turns out, the Wolf (Joey Fatone) does exist, but he's not just any wolf. This is a werewolf named Jack De Wolf, who can shape shift into anyone he has eaten. He really craves Red Riding Hood. I'll tell ya, this wolf is definitely a watered down version of what he'd be in horror movies, but he's so animated.
Jack isn't the only threat Red has to deal with. She comes to a bridge guarded by the three bully girls gruff, known as the three Ashleys (Ashley Rose Orr, Andrea Bowen, and Callie Waterman). That was very creative, but those mean girls weren't very likable villains.
Soon Red Riding Hood walks by several wolf traps, which look like neat obstacles. I'm actually a little surprised that Red didn't step on any of them. After getting more lost in the woods, Red calls her annoying little brother Rusty (Sam Stone) and he comes to the rescue. He makes it to Red and they both get to their Grandma's house. Unfortunately, Jack gets there first and eats her. It was clever how Rusty labeled that meal the senior special.
Rusty gets caught in a wolf trap and Red gets inside Grandma's house, which appears spooky with the power out and a storm outside. It makes for a neat "haunted house" effect. Right before Red walks up to her Grandma's room and finds Jack in the form of her Grandma. I'm sure you know what happens after that.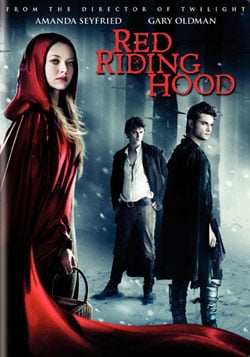 This was an interesting version of the Grimm fairytale, which shows the moral of the story in a more adventurous manner, not to mention that it's more on a family friendly level compared to Red Riding Hood (2011). The songs weren't very catchy, so I'm sure that if this movie hadn't been a musical, it still would've been just as good.