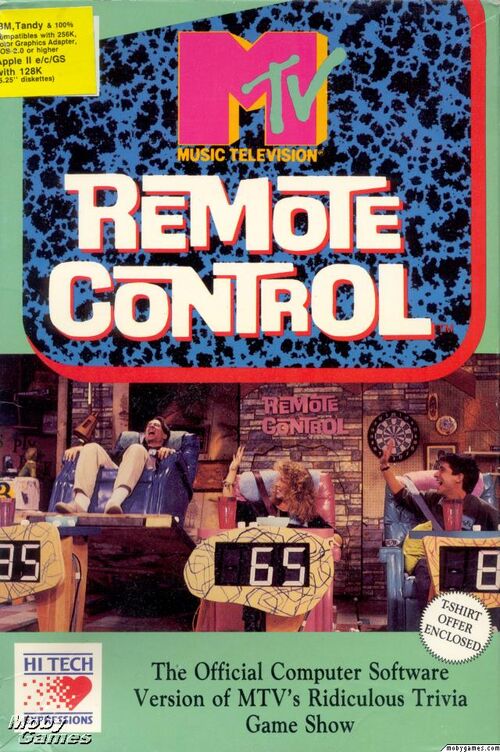 It's nice to look back on old game shows on occasion. One I haven't thought of in a long time was Remote Control (1987-1990), which was MTV's first original non-musical show. It was hosted by Ken Ober and featured Colin Quinn as the announcer/sidekick. This was long before he became a cast member on Saturday Night Live.
The object of the game is simple. Three contestants sit in lounge chairs and select one of nine channels on a big screen TV answering questions about TV trivia from shows that were from the 60s and 70s. Looking back now, it feels outdated, unless you grew up watching shows like Bewitched, All in the Family, and Hogan's Heroes.
Some categories were performance-driven with reoccurring characters. For instance, in the category Celebrity Square (Parody of Hollywood Squares), a celebrity (often played by John Ten Eyck) was asked a question and the contestants won points by agreeing or disagreeing. This version only used one square because MTV supposedly couldn't afford all nine, as is always mentioned.
You might find this interesting. Adam Sandler used to be on Remote Control, before Saturday Night Live, as reoccurring character Stud Boy. He was a heartthrob who dated many famous women. As he describes one, it's up to the contestants to guess who she is.
The most popular category is Sing Along with Colin, which focuses on music trivia. Colin Quinn would sing the lyrics to a song and once he stopped the contestants would guess the next line. It sounds awesome because what's an MTV show without referencing music videos. However, you should keep in mind that Remote Control was from the late 80s, long before stars like Eminem, 50 Cent, and Britney Spears became a huge part of the music scene. So this would be more old school material.
Occasionally a contestant would run across a negative channel, which takes away points. Ones like Home Shopping Zone that sells useless products and reoccurring character Ranger Bob, who is a thickheaded park ranger offering camping safety tips. That is some funny stuff.
The part I remember best is Off the Air. After the two rounds end, the contestant with the lowest score is out of the game in a very elaborate setup. Each chair moves backward. The one on the left flipped upside down, the one in the center went through a brick wall leaving a hole, and the one on the right went through a revolving wall showing a garden hose hanging. There were times when the chair returned with a skeleton in place of the contestant, which freaked me out at first. Then I wondered what became of the contestant. Eventually, I came to the conclusion that they were riding back to the audience, like a Disney ride. That may not be entirely accurate, but one thing is for sure. The contestant was unharmed.
After a lightning round, the winner has a final challenge. The one I remember best was the Wheel of Jeopardy, when the contestant is strapped to a horizontal wheel with ten monitors all around. Each monitor has a TV question. Depending on how many questions are answered correctly increases the chances of winning the grand prize. When the wheel stops spinning, his/her head is the pointer. It's so much better than identifying artists in nine different music videos playing simultaneously.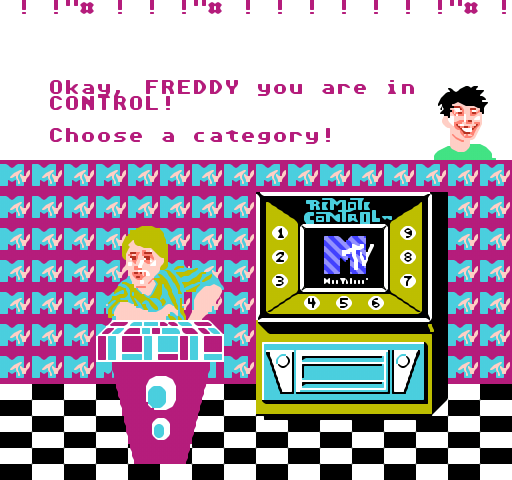 Like many game shows, after the series ends, the repeats are very hard to find. (There are some on YouTube.) However, I didn't get the full grasp of the show until I found Remote Control the NES game. I'll admit that it's not as exciting as the game show itself, but for NES standards the game is quite good, even though there is no end round.
This was a good game show for its comedy and creativity. However, it was hard to keep track of since it never had a steady time slot. Looking back now, MTV programming has changed a lot since the 80s.