Sam (Bret Harrison) is a college dropout, who finds out that his parents sold his soul to the Devil. The Devil (Ray Wise) pops in and makes Sam his personal Reaper (2007-2009) to retrieve escaped demons with different types of vessels.
The Devil may be portrayed as a good guy at times, but he's still a trickster when it comes to winning souls. Some vessels appear sillier than others do, but when they're used right, they get the job done.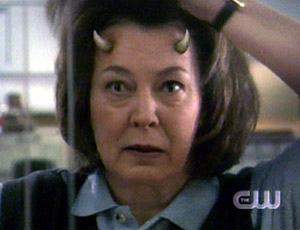 After the demon is caught, Sam has to take the vessel to a portal of Hell, which is at the DMV. Gladys (Christine Willes) takes over from there.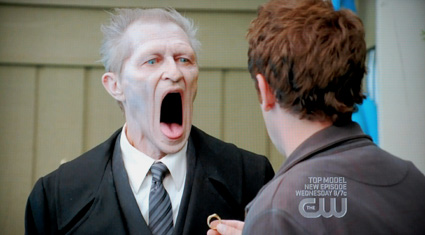 The different demons are creepy. Yet they still remind me of the many demons from Charmed. Some of my favorites include a jealous woman who can take the form of a swarm of bees, a cannibalistic doctor with monster fangs, a chemical plant CEO as a monstrous blob, and a serial killer called the Butcher who has become a rabid werewolf.
Luckily, Sam isn't alone. His allies include Soc (Tyler Lebine), who is hilarious and outspoken, and Ben (Rick Gonzalez), who actually dates a demon named Nina (Jenny Wade). In human form Nina is gorgeous. Together they make a great team of bounty hunters. One great advantage to working at The Work Bench is unlimited access to supplies.
Missy Peregrym plays the role of Andi, Sam's girlfriend. I remember her most as Haley the comedic gymnast from Stick it. She's not as comedic on this show, but it's still good to know that Andi eventually knows Sam's secret about his demon hunting duties. That way they become closer as a couple. Before, while Sam had to be secretive to Andi, I find the awkwardness hard to watch sometimes.
This was a good comedic series overall. It's too bad that it ended so abruptly. I have heard that the story would continue in the comics, but I'm not certain.