Now who remembers this old classic? Wake, Rattle and Roll (1990-1992) is about a young man named Sam Baxter (RJ Williams) and his robot DECKS having misadventures in a basement that's filled with high-tech gadgets that are highly imaginative.
Some of these gadgets include a dumbwaiter that works like a roller coaster shute, a transporter that summons people, and a living library that brings characters from a book to life. The inventor of these contraptions, including DECKS, is Sam's grandfather Lester Quirk (Avery Schriber). He often travels around the world, but always keeps in contact.
Another major contraption is the Debbie Detector. Debbie (Terri Ivens) is Sam's older sister and the detector is a transmission device to her bedroom. Debbie is a mean girl, but deep down she does care about her brother. One thing I don't understand is what Debbie is speaking into on the other end of the transmission because we never see her bedroom.
The main person who joins Sam and DECKS on their misadventures is Sam's good friend KC (Ebonie Smith), who is very helpful on occasion.
Each episode has two cartoons DECKS shows on his TV in his chest. The first is Fender Bender 500, which is an "updated" take on Wacky Races. Classic Hanna Barbera characters have races all over the world in creatively designed trucks that require two riders.
They include Yogi and Boo-Boo in the Jellystone Jammer (#1) and Huckleberry Hound and Snagglepuss in the Half Dog Half Cat Half-Track (#2). Man that's a mouthful.
There's also Magilla Gorilla and Wally Gator in the Swamp Stomper (#3) and Top Cat and Choo-Choo in the Alley Cat (#4). On a personal note, this cartoon is how I first learned about Top Cat.
Here are some more likely team-ups. Quickdraw McGraw and Baba Looey in the Texas Twister (#5), Pixie and Dixie in the Cheddar Shredder (#6), Auggie Doggie and Doggie Daddy in the Lucky Trucky (#7), and Winsome Witch and Lucky the cat in the Sonic Broom (#13).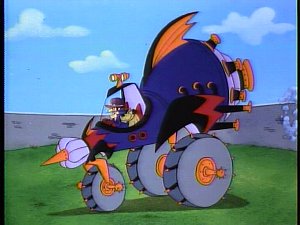 Then there's the cheating Dick Dastardly and Muttley in the Dirty Truckster (#00). It's no surprise since they always used to cheat in Wacky Races. You just never know who is gonna win.
The second cartoon is Monster Tails. In a castle that's always raining and snowing outside, resides animal versions of the classic horror monsters having misadventures with their human guardian Igor Jr. There's Frankenmutt, Catula, Mumfrey, and Dr. Veenie who becomes Mr. Snyde whenever he sneezes. I think these names speak for themselves. The only exception is Elsa. She's resembles the Bride of Frankenstein, but also has a bit of talking parrot in her.
This was a good show that was very well made. It's unfortunate that it didn't last and it would be nice to find it on DVD as well.