Among the Hanna Barbera cartoons I grew up with was Hong Kong Phooey – The Complete Series
(1974-1975). When I was younger, I had no idea what it was about, but now I do.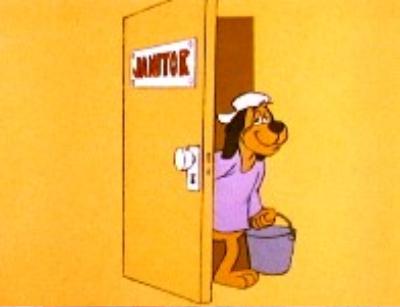 Hong Kong Phooey is a superhero dog. His secret identity is Penry Penrod a clumsy police station janitor. Even though nobody knows that Penry is Hong Kong Phooey, he's still the only talking dog around, so wouldn't that seem obvious?
When it comes time for Penry to go into action, he has quite a setup. First he goes into a secret passage behind a vending machine, and then changes into costume in a filing cabinet. It's clever, but the top drawer always sticks. He never seems to get around to fix it.
Hong Kong Phooey's sidekick is Spot the cat, who seems to be a lot smarter than he is. In fact, Spot always ends up helping Hong Kong Phooey capture the crooks since the heroic dog is not able minded. That's right. Even as a superhero he's a klutz, but because he's world famous, no one cares if he messes up, most of the time. If only Spot could talk, then maybe Hong Kong Phooey won't always assume he did it all.
Of course there are times when Hong Kong Phooey succeeds on his own, but it's always by accident. He also has to frequently check his Hong Kong Book of Kung Fu to get out of jams. I'm surprised that the enemies give him time to do so during battle.
Then we have the Phooey Mobile. This vehicle can transform into a variety of things just by ringing a mini gong. Hong Kong Phooey doesn't set the gong, so how does the Phooey Mobile become the desired vehicle without a setting of some sort?
There are only two other principle characters that work at the police station with Penry and Spot. First is Sargent Flint, who Penry drives crazy when he bumble his duties. I'm surprised Flint has never fired Penry from all the mishaps.
The other is Rosemary the lovely telephone operator. Whenever she gets a call, Rosemary always gives an elaborate introduction like; "This is Rosemary the telephone operator, the lovely lassie with the classy chassis." Rosemary is fascinated by Hong Kong Phooey. As for how she feels about Penry, Rosemary sees potential. At times she tries to convince Penry to enroll in the police academy so he won't have to work as a janitor anymore. However, Penry keeps declining, probably as an attempt to keep his secret identity a secret.
I should also point out that Hong Kong Phooey has no arch nemesis. Every enemy is different and never makes a second appearance in the series, but they all seem to know him like everyone else does.
This was certainly a classic series. I can also remember when Hong Kong Phooey was on Laff-A-Lympics as a member of the Scooby Doobies team. He hardly participated and when he did, he never talked. I wonder why that was.