It has been a long time since the Super Friends had adventures together back in the 70s. Years later, there came a new edgier version called Justice League (2001-2006). Of course it would start with big favorites like Superman, Batman, and Wonder Woman. Then instead of Aquaman and the Wonder Twins, the Justice League includes the Flash, Green Lantern, and Hawk Girl.
Some members now have new revelations on this series. First off, Wonder Woman can now fly without the invisible jet for some unknown reason. The Flash is more of a comedian and tends to be arrogant. Like Sonic the Hedgehog, super speed can cause overconfidence, or so it appears.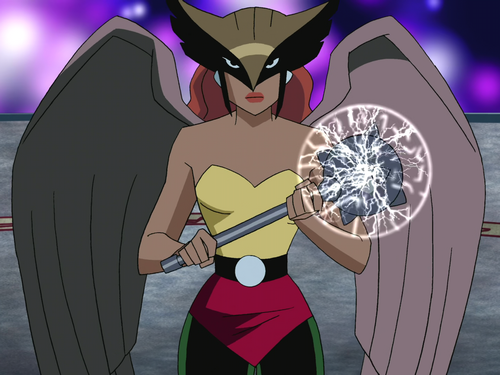 And lastly, Hawk Girl used to be a mere sidekick to Hawkman who hardly fights at all, but not anymore. She totally kicks butt as an independent warrior, who likes to shoot first and ask questions later, if you know what I mean.
On the movie pilot, Justice League: Secret Origins, a brand new hero joins the team. He's a Martian named J'Onn J'Onzz a.k.a. Martian Hunter. As the sole survivor of his kind and with his abilities to shape-shift, go through solid objects, and telepathy, J'Onn J'Onzz joins the Justice League.
The level of action is smooth and exciting, which is similar to Batman Beyond. However, like on The Super Friends, there are no back-stories, secret identities, or any arch villains, only super powers with super hero action. At least there's no constant narration this time.
This was a good series that brought all of these iconic superheroes together. It's also interesting to know that the Justice League also has a watchtower up in space to keep track of any invaders trying to conquer Earth. I don't know why they didn't think of it before, considering that the occasion has happened many times on Super Friends.