The Haunted World of El Superbeasto is an animated movie based on a comic book created by Rob Zombie. It starts with Superbeasto (voice of Tom Papa) as a masked superhero, who is also a womanizing director and star of porno films in Monster Land.
Monster Land is inhabited by every kind of monster you could ever imagine, from classic movie monsters to horror movie killers. Many of which are highly recognizable. It's so interesting how these various characters are featured together throughout the movie, even the ones that are only featured as background gags.
Superbeasto claims to be an artistic director, who doesn't judge by looks alone. As he goes through the auditions, it's fairly obvious otherwise. However, it does have its funny moments.
While filming the porno, the two sexy ladies reveal themselves as monsters. Superbeasto kills them easily. It wasn't part of the script, but the cameras were still rolling as if it was no big deal. And I thought Heavy Metal was freaky in that department.
One of those sexy ladies was named Trixie and was voiced by Dee Wallace. Though it was hard to figure out who Trixie was because her name was never mentioned during the short time she was in the movie, even if it was a credited role.
When I met Dee Wallace at Cult Fiction Drive-in 2011 in Jacksonville, she was really nice and I asked her who Trixie was. She said, "The werewolf girl with the biggest boobs." In fact, she told Rob Zombie that she would work for scale if she got to voice that character.
Superbeasto's sexy sister Suzi X (voice of Sheri Moon Zombie) is an interesting character. Her fighting skills are revealed to be equal to Superbeasto when she decapitates two female guards with her bare hands and fights off an entire army of Nazi zombies all by herself. That eye patch is a nice touch to show her toughness. How Suzi X got it is anybody's guess.
The villain in this movie is Dr. Satan (voice of Paul Giamatti). He plans on marrying Velvet Von Black (voice of Rosario Dawson), a gorgeous, but mean stripper with the Devil's mark, in order to transmogrify into a giant beast and rule the world. The School House Rock parody of Dr. Satan's plan is hilarious and was put together very well.
Among these various monsters are of a couple of characters from The Devil's Rejects. I recognized them immediately as Otis (voice of Bill Mosley) and Captain Spaulding (voice of Sid Haig). Baby was shown briefly, but it would've been nice to see more of her with the others.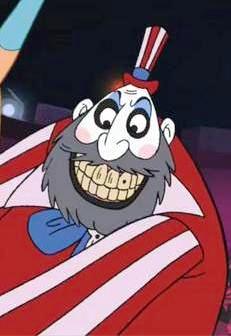 Speaking of Captain Spaulding, I got to meet Sid Haig at the same convention and he was a real nice guy.
There are quite a few HSN (Home Shopping Network) gags in this movie. If an item is slightly used, the price is marked way down from the original price. It's a little peculiar. Don't you think?
The cat fight between Suzi X and Velvet was awesome. With all of the guys watching, it was wild. Superbeasto was speechless too, even though his own sister was part of it. However, the singing during the fight had something to be desired.
I liked this film. It was creatively funny and great for horror movie fans of all types. Oddly, none of the women ever wear a bra. Do you suppose that's a custom in Monster Land?