I was glad to have met Phil LaMarr at MegaCon 2014. He's had some interesting characters as well. Here are the ones I remember best.
Hermes Conrad from Futurama: He's the accountant of Planet Express and a dedicated bureaucrat. Hermes never goes on delivery missions with Leela and the crew, but can be a real stickler for rules and regulations. I've never seen anyone so devoted to paperwork.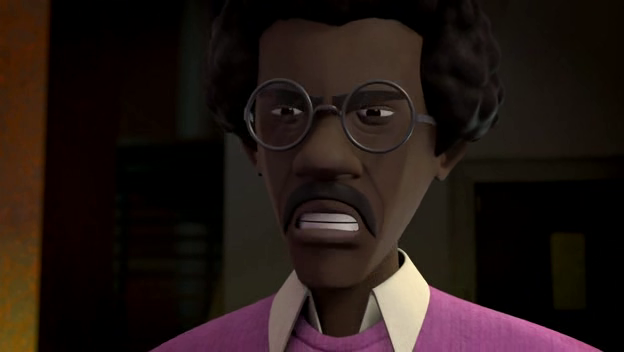 Baxter Stockman from Teenage Mutant Ninja Turtles (2012 version): This brilliant electronics expert became a criminal after getting fired from his job and eventually the Shredder employed him. He created the mousers and has a grudge with the turtles. Stockman isn't much of a fighter, but don't underestimate him, especially when he's wearing battle armor. I have to ask though. What is with that pink sweater?
Woody Daniels from Mr. T: He's a gymnast, who aspires to be a lawyer. Woody is smart and a great team player when it comes to solving mysteries, but he had to earn the respect of the other gymnasts first just for being the new guy.
Teen Afro from Afro Samurai: Since Afro was a child, he wanted revenge for his father's death. As a teenager, he had friends while training to be a samurai warrior and they tried to talk him out of it and move on, but he wouldn't listen. Can you believe it?
Any favorites you'd like to add?