For many years, classic monsters like Dracula, Frankenstein, the Wolfman, and the Mummy have been horror icons. They all unite with a bunch of other monsters at Hotel Transylvania
, which is the one place monsters can party and never have to worry about humans coming for them. This is also one of few monster movies where the monsters are all good guys.
I must admit that the monsters in this movie are so creatively funny. Dracula (voice of Adam Sandler) runs the hotel and claims to have never said, "Bleh, bleh, bleh". Frankenstein (voice of Kevin James) and his crabby wife Eunice (voice of Fran Drescher) prefer to travel by mailbox. The Wolfman (voice of Steve Buscemi) is a family man that's always frumpy. It most likely has to do with having so many kids. Even the Invisible Man (voice of David Spade) and the Mummy (voice of Cee Lo Green) join in the fun.
The hotel has zombie staff, housekeeping witches, and haunted armor that always informs Dracula of emergencies, including a clogged toilet in Bigfoot's room. It's hilarious seeing how gigantic he is.
Things take a new turn as Dracula's daughter Mavis (voice of Selena Gomez) turns 118. She wants to travel and see the world, but Dracula forbids it because he's too overprotective. However, he lets Mavis visit a human village nearby and the humans attack her with garlic bread. As silly as that sounds, it was still a disaster, or was it.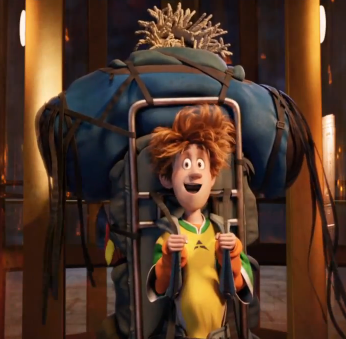 But the hotel really gets turned upside-down when Johnny (voice of Andy Samberg) a human arrives. Dracula does all he can to hide him from the other monsters, even though Johnny isn't really a threat. Since Dracula can't get rid of him without any of the other monsters finding out, he disguises Johnny as a monster and tells everyone that he's a party planner. The others found that hard to believe because Dracula is always such a control freak.
Of course Johnny is frightened at first, but once he warms up to the monster hotel he comes up with fun ideas for the party and everyone loves him for it. If only Dracula would just lighten up.
Eventually, Dracula warms up to Johnny after he experiences having fun on flying tables. After rescuing Johnny from Quasimodo (voice of Jon Lovitz) the chef, Dracula reveals why he built the hotel to keep monsters safe from humans, especially Mavis, even though she and Johnny have fallen for each other.
I really enjoyed this movie. It's definitely the funniest monster film I have seen since Mad Monster Party and matches the brand of humor used on many of Adam Sandler's films. Though I am surprised that Happy Madison Productions didn't produce Hotel Transylvania, as many of Adam Sandler's other comedy films were.