Dungeons and Dragons- Wrath of the Dragon God
is a sequel to the Dungeons & Dragons movie from 2000, but takes place centuries later. Damodar (Bruce Payne) returns to take his revenge on the Empire of Izmer. How is that possible, you ask? As it turns out, Damodar is cursed with undeath, thanks to Profion. At least Damodar doesn't wear that blue lipstick anymore.
The hero is Lord Berek (Mark Dymond) the former captain of the King's Guards of Izmer, who has missed being part of the action. That soon changes when a villager from Saragasso seeks his help. Berek and his mage wife Melora (Clemency Burton-Hill) go to investigate the poisonous gas from a dragon's nose inside a nearby mountain. I'd hate to see what would come out the other end.
After returning to Izmer, it is revealed that Damodar intends to awaken the Dragon God Falazure with a dark orb to annihilate the world. Berek is given the task to stop Damodar by retrieving the orb. Berek is not alone, four selected comrades go with him on this quest. They are Lux (Ellie Chidzley) the female barbarian, Dorian (Steven Elder) the cleric, Ormaline (Lucy Gaskell) the elf wizard, and Nim (Tim Stern) the rouge.
Meanwhile, Damodar has somehow cursed Melora and she is slowly dying. Afterwards she will be like Damodar, cursed with undeath. It's a race against time for both Izmer and Melora now.
Berek and the others head off on their quest. Their first stop is Heart Shorn Wood. There they face Klaxx (Aurimas Miliesius) the Lich and a group of specters. After that, Berek and the others arrive at the goblin village of Kurtl and find it deserted after an attack. There they find the map they need to find their next destination called Malek's Vault. Luckily, Nim was able to detect the traps.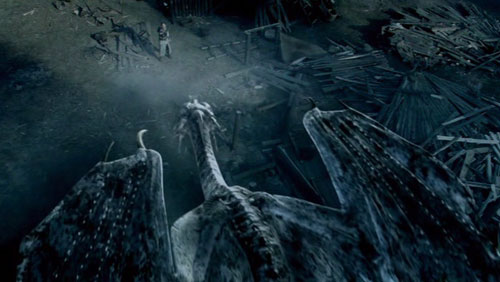 After that, the heroes face a fearsome ice dragon. It has blizzard breath that can instantly freeze anything, but it's really the teeth that I find creepier.
They soon arrive at Malek's Vault, which is sealed by a puzzle clue. Inside, the quest becomes more exciting when Berek and the others must face squid-like creatures called Darkmantles. Now I can see how the bloobers on the Super Mario Bros. video games can be fearsome out of the water as well as in.
Later comes another puzzle clue with a mirror and a booby-trapped floor. Once the heroes get past that, Ormaline manages to teleport them all to Damodar's castle. Now how did he get a castle? The heroes succeed on their quest and escape, but the adventure is still far from over. Damodar is not one to give up easily.
This was a good sequel with exciting Dungeons & Dragons adventure. However, it's a little difficult to compare it to the first film with all new characters replacing the old ones. Of course, the Dungeons & Dragons franchise is well known for having non-consistent characters with great exciting adventures.