It's Halloween once again. Since I started blogging, I always make a special post for this time of year. First it was about Dangerously Seductive Vampire Women. Next was Creepy Exploration Video Games. Then came most favorite Werewolves.
This year it's an Actor Spotlight on scream queen Rose McGowan, who was a thrill to meet at Spooky Empire 2012. She has had many great roles over the years, but here are some of my most favorite characters.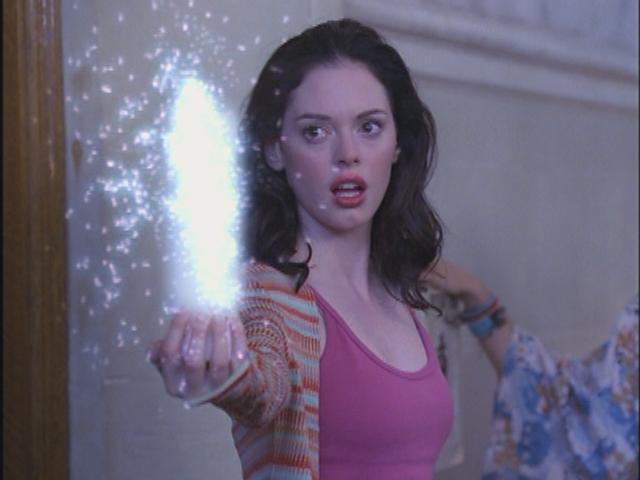 Paige Matthews from Charmed: After Prue Halliwell gets killed, there was one last hope for the Charmed Ones and Paige was it. She is half-witch and half-white lighter, which means she can orb anywhere and can fight evil with an active power. All Paige has to do is say the name of an object and she can either grab it or deflect it. Paige can be rebellious at times, but her heart is always in the right place.
Tatum Riley from Scream: She's a spunky teenager who tries to protect her best friend Sidney Prescott from the media after a series of murders begin. Tatum is definitely not afraid to retaliate with a witty remark when angered. Unfortunately, her demise was brutal after being crushed in a garage door and she was never mentioned again in the sequels as other murdered characters were.
Miss Kitty from Monkeybone: This sexy feline is a waitress and one of many figments in the realm Stu Miley gets trapped in while he's in a coma. Miss Kitty is a very helpful ally, but can also be real fierce when it comes to her appetite for the talking rats.
Cherry Darling from Planet Terror: Now here's a sexy stripper with an edge. After losing her leg during a zombie outbreak, Cherry gets a machinegun as a replacement. Then uses it and her other "useless talents" to become an ultimate zombie killing machine. She also has a witty sense of humor, which also makes her a big favorite.
Pam from Deathproof: She was merely an innocent bystander at a bar looking for a ride home and eventually gets one from Stuntman Mike, only to end up as his first victim. How I remember Pam best was when she was jamming to the music while Stuntman Mike was getting his lap dance.