In the classic sci-fi thriller, The Island of Dr. Moreau
, castaway Edward Douglas (David Thewlis) winds up on an island in the South Pacific, which is inhabited by many mutant beasts created by brilliant exiled scientist Dr. Moreau (Marlon Brando).
The first person Douglas meets on the island is Montgomery (Val Kilmer) the veterinarian who nurses him back to health.
Soon after, Douglas meets the lovely Aissa (Fairuza Balk), who is Dr. Moreau's daughter that's not all she appears to be.
 I still remember what a sweetheart Fairuza Balk was when I met her at Spooky Empire 2009.
Later that night, Douglas becomes suspicious after Montgomery locks him up in the guest bedroom and telling him that it's for his own good. So Douglas picks the lock and snoops around. As it turns out, Dr. Moreau is trying to combine DNA from various animals with human genes in hopes of creating the perfect life form. The other inhabitants are all of Moreau's attempts, which result in human-like beasts.
The various beasts do appear savage, but they have laws. One of the main laws is not to kill another animal. To enforce the laws, Dr. Moreau uses a shock device implant within each beast that's triggered by remote. I guess that's one way to keep them in line.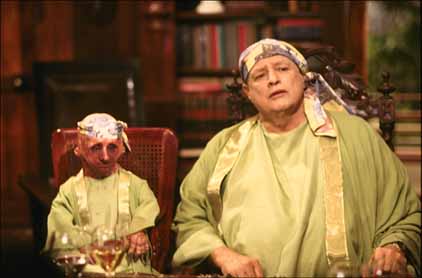 Douglas soon meets Dr. Moreau personally along with his little assistant Magi. I never fully understood what kind of creature Magi is, but he sure is a polite hardworking fellow. He even plays piano.
Things start to spiral out of control when one of the beasts, Hyena-Swine (Daniel Rigney), discovers the implant and gets it out of himself with his bare hand, or claw. He gets away and spreads the word to other beasts that wish to follow him in a revolt against Moreau. Meanwhile, it's revealed that Aissa is a beast also and relies on serum to stay human. When Douglas hears about the revolt, he tries to get serum for her so they can escape the island together. Unfortunately, Montgomery is no help because he has gone insane and destroyed all of the serum.
It's bad enough that the rouge beasts know how to use guns and explosives. They can also drive jeeps while destroying everything. Aissa soon changes into a wild cat. She's still as lovely as ever, but with a new edge. Unfortunately, it wasn't enough. Luckily, Douglas isn't up against all of the beasts. It's really just Hyena-Swine, who is the real mastermind trying to take over.
This was a great movie. It has adventure, excitement, mutants, and Fairuza Balk all on one island.