Death Race 2000
isn't just another movie about auto racing. In a corrupted future, the most popular sporting event is the Annual Transcontinental Death Race, which is featured as a form of gladiator style entertainment.
There are only five racers competing, each with a navigator. They are Calamity Jane Kelly (Mary Woronov), Matilda the Hun (Roberta Collins), Nero the Hero (Martin Kove), Machinegun Joe Viterbo (Sylvester Stallone), and Frankenstein (David Carradine).
Now Frankenstein is the most celebrated racer. He has had quite a few body parts replaced with prosthetics because of accidents he had from previous races. That must be how Frankenstein got his name.
There's plenty of tension among the racers. The most common is between Joe and Frankenstein. Joe is sick of being second best, especially when it comes to how many more fans Frankenstein has. However, Frankenstein only cares about winning and hardly shows any emotion.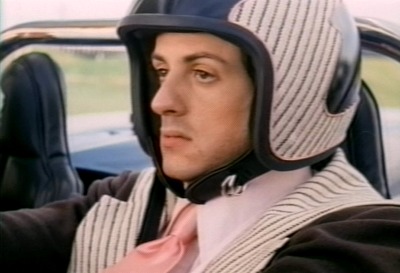 What truly makes this race across the country so gladiatorial is that the racers score points by purposely running over innocent pedestrians. Each kill is ranked by the victims' age. Can you believe the highest points are for toddlers and senior citizens? Now that's just brutal.
Meanwhile, a Resistance group led by Thomasina Paine (Herriet Medin) tries to do what they can to sabotage the race in order to stop the killings and restore humanity. You'd think others would freely join in, but so many people are all for the death race. There are even fans that would gladly sacrifice themselves to show their devotion. Talk about hard core fans.
The commentator of the race is the highly enthusiastic Junior Bruce (Dan Steele), and Grace Pander (Joyce Jameson) is the on the spot reporter, who often addresses her interviewees as dear friends of hers. I'm not so sure if that's true, or if Grace just says that as part of her smug on camera persona. This was an interesting film. There were some amazing car stunts, but most of the action was focused on the pedestrian kills. It's definitely not something I would expect from an auto-racing movie.