If you thought Sailor Moon was a cool anime series, then I have no doubt that you'll find Glitter Force (2015-2016) just as interesting. This Netflix original series is about five middle school girls who gain superpowers from Glitter Charms and protect the world from the evil Emperor Nogo and his forces.
The heroes are the optimistic but clumsy leader Emily as Glitter Lucky, the tough jokester Kelsey as Glitter Sunny, the shy artist Lily as Glitter Peace, the loyal athlete April as Glitter Spring, and the highly intelligent Chloe as Glitter Breeze. Together these five friends are the Glitter Force. The team members are introduced one at a time per episode but at least that's not spread too far apart like some shows do, like Sailor Moon and Sgt. Frog for example.
Of course every superhero team should have a guide. The guide for the Glitter Force is Candy, a pixie from the magical kingdom of Jubiland. She's cute and hyperactive, especially when it comes to her ears being styled like hair buns.
There's also Candy's older brother Pop. He's not featured as frequently, which is too bad since he's more vigilant than Candy and can transform into different things.
Now we get to the villains. Hailing from the Shadow Realm, four fairytale based creatures use their power to absorb negative energy from innocent bystanders in order to revive Emperor Nogo. The first is Ulric the wolf who is very cunning and based on the Big Bad Wolf.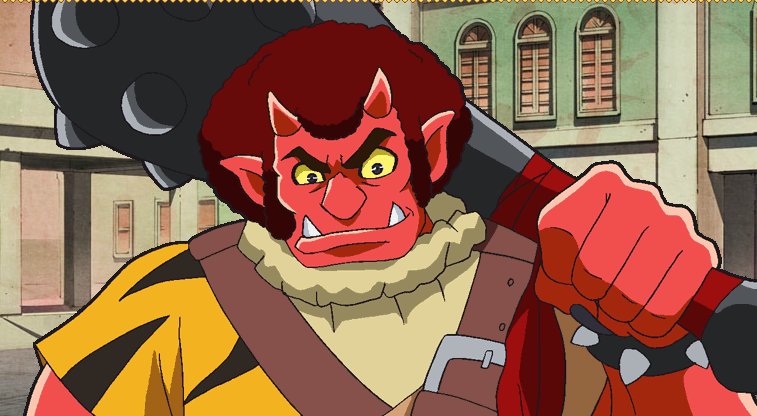 Brute is a troll that prefers to use brute strength over intelligence. Of course trolls are very common in both fairytales and the fantasy genre.
Third is a wicked witch named Brooha that uses magical contraptions and can clone herself easily. She's based on different fairytale witches.
Then we have Rascal the jester. Despite his annoying voice, he's pretty creative. He fights with magical playing cards and has a playful, but sadistic persona. He wasn't featured in the series very much but I like his style, for a villain.
When the villains decide to attack and gather negative energy, only one of them goes to Earth at a time. Then he/she creates a monster out of a random object called a Buffoon, which always has a giant body and a clown face. Whenever the Glitter Force defeats it, a Glitter Charm appears and gets added to their arsenal.
This was an interesting series for its superhero action that's on the level of Power Rangers. At the end of each episode, there's a song and dance number by the Glitter Force. The songs are pretty good and they only change after four episodes. If you're a Sailor Moon fan, I would suggest giving this show a try.