As much as I enjoyed the first film, I couldn't wait to see its sequel Hotel Transylvania 2
and believe me it was well worth it.
Much has changed at Hotel Transylvania. Now that humans and monsters live in peace and harmony, Dracula (voice of Adam Sandler) approves of human guests and his daughter Mavis (voice of Selena Gomez) is married to Johnny (voice of Andy Samberg). Could things get any better?
Yes they can. Mavis and Johnny have a son named Dennis (voice of Asher Blinkoff), who is half human, half vampire, (a.k.a. a dhampir) and just adorable. Dracula is very close with Dennis. In fact, he even disguised himself as a nurse to see his grandson. That's just not something you would ever expect Count Dracula to do.
Johnny's family is introduced in this sequel. His father Mike (voice of Nick Offerman) is always so serious as he tolerates everyone around him. Johnny's mother Linda (voice of Megan Mullally) tries to be kind but always ends up putting her foot in her mouth, making things become awkward.
Dracula has high hopes for Dennis to show his vampire side, but it hasn't surfaced yet. Secondly, Dennis's favorite monster is Kakie (voice of Chris Kattan) a TV monster that's friendly like Elmo and bit corny.
After seeing how the numerous wolf pups can move around like a wild tornado, Mavis believes that the hotel is not a good place to raise Dennis and considers moving to Johnny's hometown in California. While the two of them are gone, Dracula sees this as an opportunity to inspire Dennis. So Dracula and his friends Frankenstein (voice of Kevin James), Wayne the Wolfman (voice of Steve Buscemi), Griffin the invisible man (voice of David Spade), and Murray the mummy (voice of Keegan-Michael Key) take Dennis on a road trip to their old haunts. Even Blobby the blob monster comes along for laughs.
Once Mavis finds out, she is so determined to get back to the hotel, she actually carries Johnny and their luggage herself while flying back to Transylvania as a bat. I never thought Mavis was that strong. I guess it goes to show that you should never underestimate the power of a concerned vampire mother.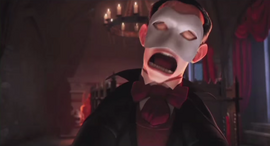 Here's a cool addition. The hotel has an organ player, who is none other than the Phantom of the Opera (voice of Jon Lovitz). It's neat how he was thrown in so randomly. That got me thinking. There's no mention of what became of Quasimodo after how he was left in the first movie.
It isn't until much later when we see Dracula's father Vlad (voice of Mel Brooks). Although Vlad dislikes humans even more than Dracula used to, the real threat is Vlad's servant bat monster Bela (voice of Rob Riggle) and his bat crew, since they're always up front about it.
I really like this movie and find it even funnier than the first one. I also saw online that there is a third installment in the works. I have no doubt that it will only get better from here.