In the horror spoof Transylvania 6-5000
, tabloid reporters Jack (Jeff Goldblum) and Gil (Ed Begley Jr.) are sent to Transylvania to get a scoop on the Frankenstein monster. However, this takes place in the "modern day". So the odds of getting such a scoop are slim to none.
After Jack and Gil arrive in Transylvania, Gil asks the locals if they've seen Frankenstein, only to make him and Jack a laughing stock. What was he thinking?
Michael Richards is hilarious as Fejos the butler with his catchphrase, "Is good, eh?" Fejos is a klutz, but creatively funny. You never know where you'll find him or what he'll do next for a laugh with all those secret passages throughout the hotel.
Soon Gil finds a lead on the monster story. Dr. Malavaqua (Joseph Bologna, who I remember best as Nick Foley from Rags to Riches) lost his medical license for practicing medicine. Hmm, curious. Maybe there is something monstrous going on after all, but what?
As it turns out, Malavaqua is a mad scientist, but only when he's in the secret laboratory. Outside of it, he's completely sane and friendly. What is it about the lab that changes him so quickly?
Another crazy character is Odette (Geena Davis), who is a vampire that loves Gil to pieces. She may be a nymphomaniac, but I think Odette really does have feelings for him.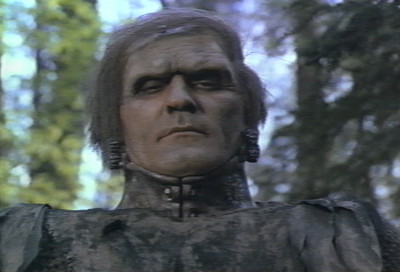 While in the forest, Jack and Gil run into other monsters. They include Frankenstein (Petar Buntic), the Wolfman (Donald Gibb), and Twisto (Dusko Valentic) a mangled man. But they're not real monsters, are they?
This was a classic film and a good example of a creative monster movie, even if there is no gore in it.