The Sifl and Olly Show (1997-1999) is another comedic MTV series from the 90s. My first impression about the show with all sock puppet characters meant that it was focused on a much younger audience, but it turns out that it isn't.
This sketch comedy series features segments that are more on an adult level. Sifl and Olly are two friends that have misadventures and sometimes tell the stories like a comedy team, as well as performing songs about themselves. I admit, some of the songs are pretty catchy.
At times other characters join in. The only ones that are reoccurring include Chester who is slow witted, and Precious Roy who is loud and crazy.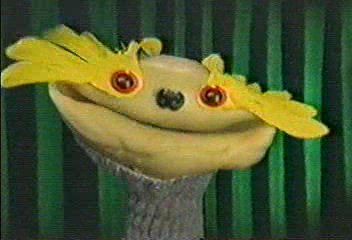 Speaking of Precious Roy, he has his own reoccurring segment about silly products in a hilarious spoof on the Home Shopping Network. Things like Sasquatch feeders, Civil War corpses, Electric cigarettes, and Chicken flavored air conditioning.
Of course, what really makes the segment hilarious are the comments from various consumers who talk about how wonderful these products are. Then it ends with Precious Roy providing his own commentary, which is always completely off the subject. "Suckers!"
According to Wikipedia, the creators of the series (Liam Lynch and Matt Crocco, who also perform most of the various characters) have been friends for years and attended college together. I can tell that much of their material was inspired by their college days. It's nice to know how creative a series can be when the creators write their own material.
I must confess that the only reason I remembered this show was because it was always on right before Celebrity Deathmatch. Looking back now, I find it both funny and creative. It's another classic that's old, but not forgotten.