Hanna-Barbera is best known for its animated shows with the occasional live action series. It turns out that there was an old series that combined both called The New Adventures of Huckleberry Finn
(1968-1969). It's about Tom Sawyer (Kevin Schultz), Huckleberry Finn (Michael Shea), and Becky Thatcher (LuAnn Haslam) ending up in an animated world while on the run from their nemesis Injun Joe (Ted Cassidy) in a mysterious cave. Their goal is to get back home to their hometown Hannibal, Missouri.
When I first saw this show on the Boomerang channel a while back, I was fascinated that it had live actors in an animated world like in such movies as Who Framed Roger Rabbit, Cool World, and Space Jam. I always liked that concept.
Another interesting point is about Injun Joe. The three young heroes always end up someplace different and the animated antagonist always has a very striking resemblance to Injun Joe, right down to the chain and handcuff on his right wrist. Ted Cassidy voices each villain. As much as I liked his role of Lurch from The Addams Family, it's good to see him doing a different range of characters too. Despite that the live action version of Injun Joe is only in the intro of every episode.
In addition to that, after the villain is defeated (sometimes ending in death) Injun Joe easily comes back as someone else. This leads to number of theories, from the whole series being one long dream to Injun Joe having some kind of supernatural power we know nothing about. Whatever the reason, it makes for an interesting episode formula.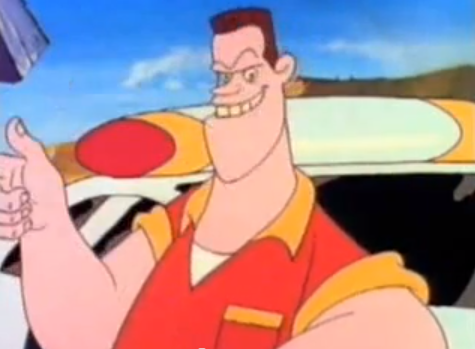 The only other show I know of that used that tactic was Back to the Future the animated series (1991-1993). Whenever the protagonists travel back to any time period, they always run into an ancestor of Biff Tannen, who always calls Marty McFly a butthead at least once. I always found that interesting.
Back to The Adventures of Huckleberry Finn, I also would like to point out that even though Tom, Becky, and Huck are the only non-animated characters, there are times when they are animated at a distance. Particularly when a stunt double is required. It's so clever how that works.
This was certainly a great series overall, especially with its unique method of real actors in animated worlds. What could've made this DVD set better was if there had been a special feature about how the series was put together. Unfortunately, there are none.