When I was a kid, I remembered seeing the Strawberry Shortcake characters on different kinds of merchandise, especially stickers. However, it wasn't until I saw some of the straight-to-video specials when I came to understand what they were about.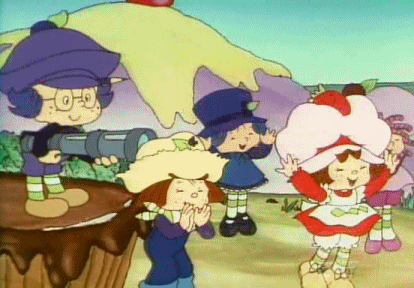 The small garden world of Strawberry Land is populated by a group of young folk called berry people and they have berry food names like; Huckleberry Pie, Blueberry Muffin, Plum Pudding, Raspberry Tart, Apple Dumpling, and of course Strawberry Shortcake.
These features were among those that could only be found as VHS rentals at the grocery store back in the 80s when they were new. It's so good that now you can find at least the first two specials on DVD in Strawberry Shortcake – Double Feature: The Wonderful World of Strawberry Shortcake / Strawberry Shortcake in Big Apple City
.
The first feature is The World of Strawberry Shortcake (1980). It's Strawberry's birthday and her friends got her a magic watering can that ends up flooding all of Strawberry Land, thanks to their arch nemesis the Purple Pie Man of Porcupine Peak.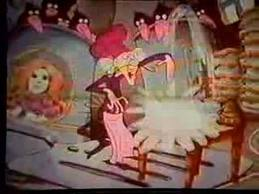 The Pie Man is always intent on scheming against Strawberry and her friends with the help of his berry birds. In a way, this pie chef is like what Gargamel is to the Smurfs, and you've got to admire his evil lair on Porcupine Peak. It's so creative how it's made entirely out of giant baking supplies. Some of which are magical.
The second feature is Strawberry Shortcake in Big Apple City (1981). In this one, Strawberry goes to Big Apple City to participate in a televised bake-off and the Purple Pie Man is her opponent trying to cheat his way to victory. Along the way, Strawberry meets new friends, Orange Blossom, Lemon Meringue, T.N. Honey, and Apricot.
The only other feature I remember well that's not on this DVD is Strawberry Shortcake Meets the Berrykins (1985). The animation style was much different than any of the previous specials, and even Strawberry changed her look.
There are also new characters that live in Strawberry Land, which include Lime Chiffon, Peach Blush, and Banana Twirl.
As for the story line, the Purple Pie Man is up to his old tricks again. This time he creates a rain cloud that changes the scents of all the berries merely to make the world's most wonderful perfume. Now it's a race against time for Strawberry and her friends to stop the cloud at the source before it bursts wide open.
In addition, the Pie Man has a new partner named Sour Grapes. She's a snobbish woman that wears a live snake called Dreggs like a shawl and loves to yodel, despite how the Pie Man hates it.
I should point out that both the Purple Pie Man and Sour Grapes were featured in later versions of the franchise like Strawberry Shortcake – The Sweet Dreams Movie
. However, I sometimes wonder if these two villains have become underrated because they don't appear in the latest series, Strawberry Shortcake: Berry Bitty Adventures (2010-present). There's no explanation on why that is.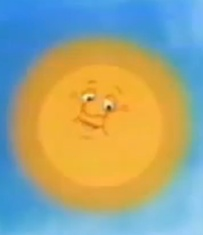 These were among the cartoon classics I grew up on. One last thing: The talking sun doesn't appear in later Strawberry Shortcake features either. I guess there was no need for a narrator anymore after the franchise updated.