The Nintendo eshop downloads for Nintendo 3DS keep getting better and better since I downloaded Ninja Battle Heroes. This side scrolling platform game has Anime style animal characters with ninja action and simple navigation. Why can't more Anime video games be platformers that are easy to figure out?
The story line is also simple and straightforward. Set in a feudal Japan era, there are a group of warriors called the Beast Brigade led by General Yukimura. Unfortunately, all of the members were captured except one, Saizo Kirigakure. Now it's up to Saizo to rescue them.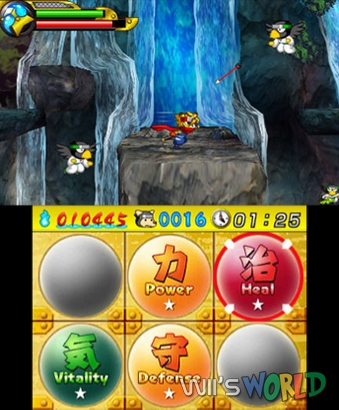 As you proceed through the game, other members get rescued and join in as backup. Their skills are helpful, but Saizo is really the only playable character. Also the skills can only be activated when you've collected enough spirit energy from defeated foes.
The rescued allies include Kosuke who can restore your life meter with first-aid and Kamanosuke who can make cyclones which is very useful when there are too many background enemies throwing projectiles.
There's also Mochizuki (Mochi for short) who can throw fire and Jinpachi who can make an ice pillar. Their skills are interesting but not very affective.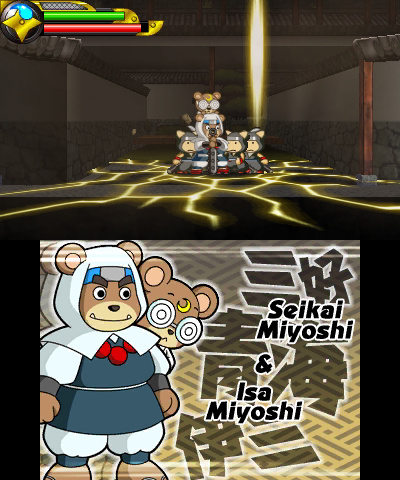 Other allies are bosses who are under evil mind control that join you after defeating them. The first are the Miyoshi Bros., Seikai and Isa. Seikai has brute strength and uses his brainy brother Isa as a throwing weapon. However, the only skill you can acquire is their earthquake attack, which isn't any more effective than the fire and ice attacks.
Other bosses include Rokuro, a bird who grants you flight, which is very helpful to get to those hard to reach areas, not to mention the hard to reach enemies up high. There's also Juzo who has a rifle attack and Sasuke who can provide clones. These skills are only useful when you need a very strong attack, most likely against a tougher boss.
Eventually, it all comes down to the final boss Ieyasu. He's tough with his strong attacks, unleashing of enemies, and has a second form courtesy of the demon Hattori Hanzo. Why does that name sound familiar?
I really enjoyed this game for its simple game play. It has its share of challenges also like completing a level within a certain time, having a big enough combo, and getting through a level without taking any damage or summoning any beasts, which is required to unlock certain skills and powers. But once you manage to succeed in these difficult tasks, you'll feel rewarded knowing that it was all worth it.