Normally when a new season begins, it takes place shortly after the events of the previous season, but not this time. Legend of Korra: Book Four: Balance
takes place three years later. The Red Lotus has been taken care of, but the Earth Kingdom is still in chaos without a ruler.
Apparently, Team Avatar has gone their separate ways. Korra has recuperated after a rough battle with Zaheer, but is going through a lot of self-doubt. She even changes her clothes and cut her hair as she slowly gets back in fighting form.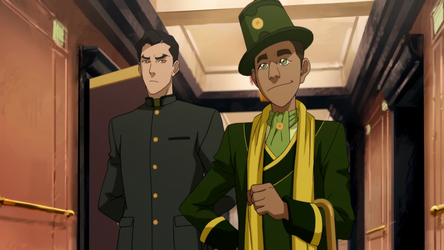 Mako has become the bodyguard of Prince Wu, the heir to the Earth Kingdom. However, Wu is more into living the high life than taking his royal duty seriously, which makes him a handful for Mako.
Meanwhile, Bolin works as an Earth Nation soldier along with Varrick and Zhu Li. Speaking of Zhu Li, it wasn't until this season when she actually speaks and really lets Varrick know how she feels about him.
Their leader is Kuvira. She was Suyin's protégé and captain of the guards. Now Kuvira sets out to bring peace to the Earth Kingdom, but believes that the only way to do so is by force. She even uses manipulative methods to get people to join her. Anyone that refuses gets imprisoned, plain and simple. That only makes Kuvira a tyrant, even though she announces herself as the Great Uniter.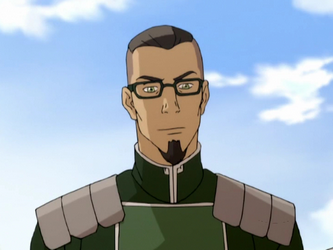 Therefore, Kuvira has become the new villain for this season along with her fiancé Baatar Jr., who also happens to be Suyin's oldest son.
It turns out another old character from Avatar: The Last Airbender is still around. Toph Beifong, who was once the chief of police, now lives in a swamp as a hermit. She has fought many battles in her time, but Toph gave up that life knowing that crime would never stop. So she decided that living in the swamp was the only way to live peacefully.
Tenzin's children have also grown as stronger air benders and even have an adventure like the original Team Avatar used to have.
With the chaos worse than ever, Korra must stop Kuvira but first she must defeat the enemy within herself in order to do so. It goes to show that the biggest heroes/heroines always seem to go through the biggest torture when going up against tough enemies.
There you have it, an excellent series about the next generation of Avatar: the Last Airbender. It had plenty of action and adventure with the usefulness of more modern conveniences. However, there was also quite a bit of romantic drama throughout the series that I didn't care for. That could've been toned down, just a little bit.