The 1960s have had its share of clumsy spies from shows like Get Smart and Cool McCool. One that I haven't thought of in a long time was James Hound (1966-1967).
Even though James Hound is quite clumsy, crashing through walls and doors all the time, he's not really that funny. James has a gruff voice and is so serious all the time. One thing's for sure. No matter how much James goofs up his efforts, he always gets the job done.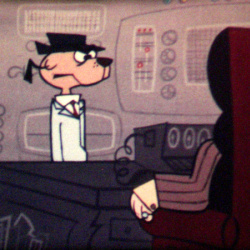 As entertaining as this show is, there are a lot of incompletions. For instance, there's no mention of what spy agency James works for and the Chief's face is never revealed. I can't imagine why.
The only other person who seems to work at the agency is Ms. Q. She's the secretary who keeps track of James's efforts and notifies him of his next assignment.
James handles many foes, but his arch nemesis is Professor Mad. There's not much to him, except that he's a madman trying to take over the world. It makes you wonder what his deal is.
This was a good show that I remember watching when I was a kid. Would you believe that what I remember most was that James's hat doubled as a communication device to keep in contact with the Chief? Is that what it means to talk through one's hat?