That's right. Spiderman has been around for a long time, but for the first time ever the franchise came to MTV with Spider-Man: The New Animated Series
(2003-2004).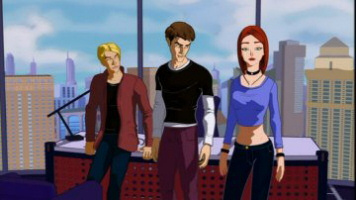 This show takes place after the events of the first Spiderman movie (2002). It mainly focuses on Peter Parker (voice of Neil Patrick Harris), Mary Jane Watson (voice of Lisa Loeb), and Harry Osborn (voice of Ian Ziering) as a group of friends in college, but each with personal struggles.
Peter, of course, has a difficult time balancing his responsibilities with his double life as a superhero. Mary Jane focuses on making it as an actress and has mixed feelings about Peter. Harry craves revenge on Spiderman for what happened to his father and is the new head of his father's company Oscorp.
The superhero action is awesome. When Spiderman web slings through the city, it's very smooth and fast, especially while chasing criminals. Spiderman is also slick in combat with fast moves and witty remarks. He even changes in and out of costume quicker than ever before.
Peter is also clever to contain his schoolbooks and change of clothes within a web and hidden on walls and rooftops. Even when he's late for class, he can respond to a question the teacher throws at him with ease. Unfortunately, it never gets Peter off the hook for being tardy, even though he was only out saving people and can't tell anyone about it.
Peter is a photographer at The Daily Bugle, but his employer J. Jonah Jameson (voice of J.K. Simmons) is hardly featured on the series. Unlike other versions of Spiderman, the only times that Jameson is featured is at his office when Peter turns in his photos, which inspire Jameson with possible headlines about Spiderman as a menace to society. It's bad enough that the police are always after Spiderman, even though he's a hero.
Unfortunately, Peter can barely make a living at The Daily Bugle, so he sets his standards a little higher by occasionally providing news footage for the Empire One TV studio. That's where Peter meets aspiring reporter Indy Daimonji, who also becomes his love interest, despite his feeling for Mary Jane. Although, Mary Jane only wanted to be friends with Peter, or does she.
What's also different about this series is that most of the criminals Spiderman faces are not his archenemies, but some do make an appearance or two. The most common was Electro. He was once an unpopular teen named Max Dillon, who was always picked on. After a freak accident, he becomes an electric monster and the first thing on his agenda is to take revenge on his tormentors. Electro succeeds, but still remains a killer, even though all he ever wanted was to be accepted. I always wandered what Electro's back-story was.
Other known villains that make appearances are Craven the bounty hunter, the Kingpin, and the Lizard Man. Of course, you can't have a Spiderman series without a Lizard Man episode.
I enjoyed this series for its smooth action and MTV style of humor. In addition to conveniently having a camera handy, I thought it was great that Spiderman had a camcorder while on patrol to videotape himself talking. It's too bad he only used it in the first episode. That would've added to the humor even more.