Based on the book series by R.L. Stine, Goosebumps (1995-1998) provides horror that's focused on a young level. I can remember this series being one of the most popular shows from the mid 90s, next to Power Rangers. However, like the Dungeons & Dragons franchise, there are no consistent characters. Every episode features different characters, all played by different actors. Like the books, the only consistency Goosebumps provides is its creative level of horror and follows the same formula, which is about teenagers encountering a supernatural force and must defeat it themselves. Most commonly it happens to kids who have just moved to a new neighborhood.
Since each Goosebumps episode is so different, I've come up with a list of some of my favorites.
The House of No Return: Three mischievous friends, Robbie (Jeff Davis), Nathan (Robin Weekes), and Laurie (Lauren Annis), form a club called Danger Inc. They try to recruit as many members as they can, but the initiation requires spending one hour in an old abandoned house that's haunted by the ghosts of a married couple, who love children. Danger Inc. calls it a test of bravery. Boy, are they in for a rude awakening.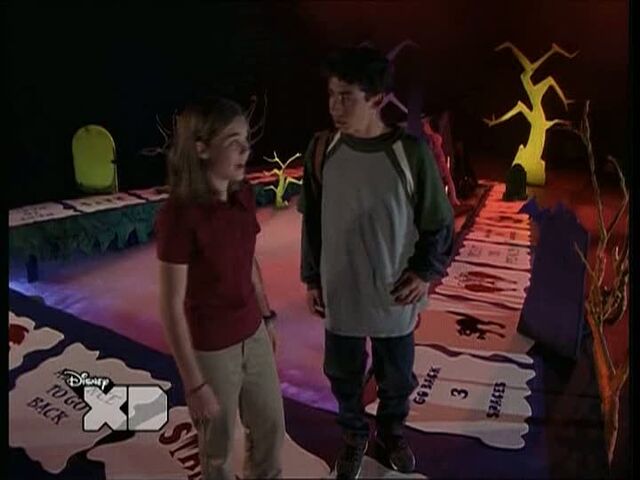 The Haunted House Game: A little girl (Dara Perlmutter) tricks two teens, Jonathon (Benjamin Plener) and Nadine (Laura Vanderwoort), into going inside an abandoned house and they find a board game that comes to life. Now the teens must play the game in order to survive the ghostly terrors inside. What really makes this interesting is the adventurous quest on the game board and the creepy exploration inside the house, which is like a puzzle. All of the doorways lead to random areas. For example, once you enter the front door, you're already in the basement. Who do you suppose was the original interior decorator?
Teacher's Pet: During a class field trip in the woods, two friends, Becca (Michelle Risi) and Benjy (Telmo Miranda), stray from the group and find a creepy old cabin that reveals a mystery behind their science teacher's love of snakes. One of the most common scenarios of the horror genre is about teens being terrorized in the woods, which I find interesting. Let's face it, you can't have a horror themed series without at least one episode about teens in the woods.
The Ghost Next Door: In this two parter, a young girl named Hannah (Nicole Dicker) suspects her new friend Danny (Cody Jones) to be a ghost, but includes a twist that I never saw coming.
Ghost Beach: Siblings Jerry (Sheldon Smith) and Terri (Jessica Hogeveen) Sadler meet Sam (Billy Turnbull) and Louisa (Anna Majewski), who coincidentally have the same last name. They tell Jerry and Terri about a cave at the beach that's haunted by a ghost. Of course, who could resist checking that out in the middle of the night?
What are some of your favorite Goosebumps episodes?