Next to Anime, Sentai shows are often interesting. One title that always seems to pop up is Ultraman: The Complete Series
(1966-1967). Until fairly recently, I had no idea what it was about since the commercials and merchandise don't tell much.
The series takes place in the future and various aliens from outer space, mainly giant monsters, come to Earth and try to threaten civilization. It's always up to an organization called the Science Patrol to protect the planet from these monstrous threats.
The Science Patrol consists of Captain Mura (Akiji Kobayashi), tough guy Daisuke Arashi (Sandayu Dokumamushi), the funny inventor Mitsuhiro Ide (Masanari Nihei), the pretty radio/communications operator Akiko Fuji (Horoko Sakurai), and her younger brother Hoshin Fuji (Akihide Tsuzawa).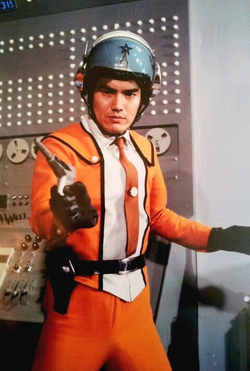 Also helping out is Deputy Captain Shin Hayata (Susumu Korobe), who unknown to everyone is Ultraman, a giant intergalactic hero.
Unlike other superheroes, Shin never transforms right away when faced with the monstrous danger. He always waits to do so as a last resort because Ultraman has a color timer, limiting his powers. In a way, it's a total rip off.
I know that it's a 60s series and I don't expect much action, but the Ultraman battles are only featured in the climax of each episode. That's best part of the show, seeing Ultraman kick monster butt.
Overall, this was a good show for its time. Though not as exciting as the Super Sentai franchise, it certainly is interesting like in the way of the classic Godzilla movies.