Fighting games were huge back in the 90s as well as they are today. Normally what comes to mind are Street Fighter, Mortal Kombat, and Killer Instinct, which started a trend of other fighting game franchises. The one I'm going to focus on now is Fatal Fury.
I never actually played any of the Fatal Fury games before, but I do remember reading about them in magazines like Nintendo Power and Gamepro. Like most fighting games, it was just a bunch of cool characters with awesome special moves and hardly any story lines. Of course that's always cleared up with movies and comics that are based on the games.
It turns out that Fatal Fury did have a movie called Fatal Fury the Movie
 and it was Anime that I find reminiscent to Street Fighter 2: The Animated Movie, which is very nostalgic.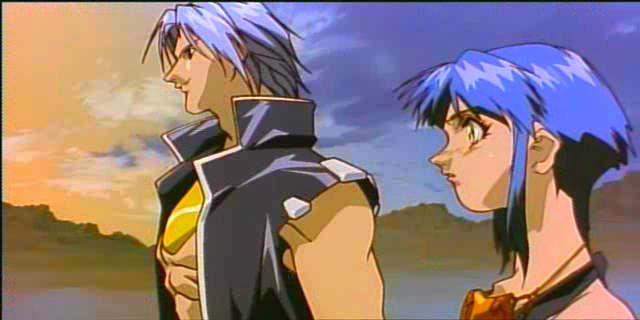 The story here is about the ancient armor of Mars that was split into six pieces, but once assembled it would make anyone who wears it powerful enough to destroy the world. Laocorn Gaudeamus intends to find all of the pieces that were scattered all over the world. So far he has already found three.
Laocorn's twin sister Sulia seeks out martial artists Terry Bogard, his brother Andy, the brash Joe Higashi, and the gorgeous Mai Shiranui to stop Laocorn and save him from himself.
The martial arts action is awesome. I'll tell you, if I was as familiar with these characters like I am with the ones from Street Fighter, I would enjoy the battle scenes much more while looking forward to seeing any of the special moves.
However, this feature doesn't just have battle scenes among the major characters. The heroes also battle a group of assailants whose power come from their masks. Removing the masks may defeat these mystical fighters, but don't underestimate them.
Lastly, it's pretty neat that when any of the heroic fighters, who includes Kim Kaphwan, are out of uniform, they can change very quickly before going into battle. I guess it's the look of the fighters in the video games, which seems to be a big part of their strength.
This was an interesting movie. Even though it runs long at points, this blast from the past is one I would recommend, especially if you grew up on video games from the 90s.