Based on yet another Edgar Allan Poe poem, The Haunted Palace
takes place in the town of Arkham in the 1700s. The townspeople accuse Joseph Curwen (Vincent Price) of being a warlock and burn him at the stake, but Curwen vowed revenge by coming back for the descendants of the people who killed him. Why must vengeful spirits always attack young people just because they share a bloodline?
One hundred and ten years later, Curwen's great great grandson Charles Dexter Ward (Vincent Price) and his wife Anne (Debra Paget) inherit the palace Curwen lived in, completely unaware of the curse the town of Arkham has had since Curwen died. The townsfolk are unfriendly, except for Dr. Willet (Frank Maxwell) who shows them the way to the palace that looks real nice in the distance.
When Charles and Anne arrive, they explore the desolate palace. It has such a creepy ambiance that's interesting and the portrait of Curwen adds a nice touch to the place. When Charles sees it he gets spooked and describes the palace as a mausoleum, as a joke of course.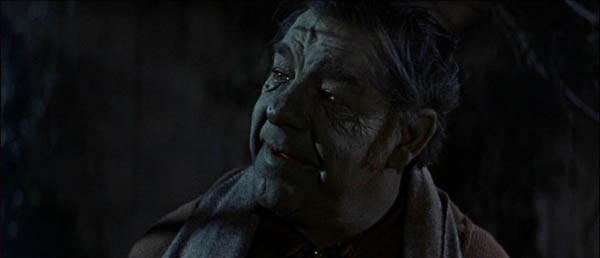 Eventually, Charles and Anne meet Simon (Lon Chaney Jr.) the caretaker. He just happened to be preparing the palace for their arrival. Simon must not have gotten much done since the palace is still filed with cobwebs and a snake living in the oven. It's also strange that Simon didn't even greet them at the door, which was locked shut.
The next day, Charles and Anne discover that the townspeople are strangely becoming deformed. Mostly it's their eyes disappearing, which is real horrific.
As more time goes by, Charles becomes more affected by the portrait of Curwen and later discovers that Curwen really was a warlock. Soon Curwen returns and takes control of Charles's body, despite his resistance. As for Anne, she is unaware of the possession, but is suspicious about the changes.
It's also revealed that Simon is involved with Curwen's return as well as a guy named Jabez Hutchinson (Milton Parsons) who seemed to have popped out of nowhere.
Curwen also had a black magic book called the Necronomicon. Unlike the one from The Evil Dead franchise, this book was used to summon dark creatures so they would mate with mortal women to create a race of super humans. Now he plans to use it once again.
Curwen also takes revenge by killing the descendants of the people that burned him by burning them to death. Then he intends to bring his old lover Hester (Cathie Merchant) back from the dead. He succeeds but Hester doesn't really talk much.
This is a good horror feature with mystery and suspense. Though I must admit that it doesn't stand out as much as some of Vincent Price's other Edgar Allan Poe based movies, but the whole idea of a haunted palace still keeps it interesting nonetheless.